Seal Play
Students make video about KP2
While the friendly Hawaiian monk seal KP2, or Ho`ailona, no longer lives on Molokai, he is still helping youth understand more about the species. Students at Ho`omana Hou School are creating a video to raise awareness of monk seal extinction, using Ho`ailona's story as inspiration. The fictional account of Molokai's favorite seal being rescued by two sharks and some fishermen is called "Aloha, Ho`ailona, Aloha."
"The fishermen and sharks to go California to rescue Ho`ailona from swimming in circles for the rest of his life," said Walter Ritte, teacher at Ho`omana Hou, describing the video.
Students have been working on the film since the beginning of the school year, with lots of community kokua. Ritte's class has been taking video shooting and editing lessons from Dan Emof of Akaku, and hope to give copies of the completed video to all Molokai schools, as well as the National Oceanic and Atmospheric Administration (NOAA).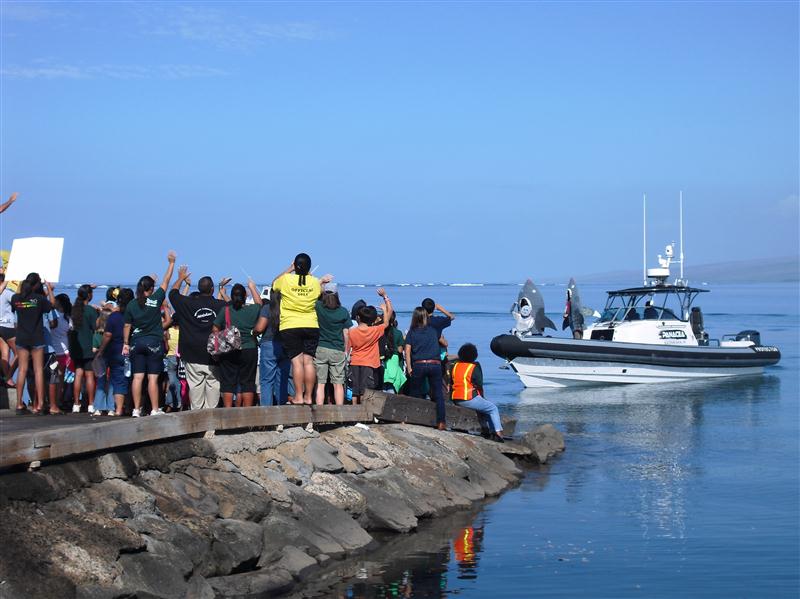 Kaunakakai Elementary School students came out to lend a hand during the shoot last week, standing at the Kaunakakai Wharf to welcome Ho`ailona home for one of the video's scenes (pictured left/right/above). Fifth grade teacher Kawika Gonzales said his class has been learning about Hawaiian monk seals. Since his class has made field trips to Ritte's school to learn about the fishpond, he said they wanted to come out to support Ho`omana Hou's efforts.

Ritte said they are looking for pictures, videos, personal stories of Ho`ailona to use in the video. Please call Molokai Community Service Council at 553-3244 if you can kokua; materials will be returned.