Scientists Gather on Molokai to Study Monk Seals
Community Contributed
By Diane Pike, Molokai Marine Mammal Response Team Coordinator
Two visiting scientists joined NOAA (National Oceanic and Atmospheric Administration) researchers on Molokai last week to study the diet and feeding behavior of the Hawaiian monk seal.
The team collected scat (seal poop) samples and tagged animals. Researchers caught seals to deploy cellphone tags that collect detailed information on animal movements and diving behavior. This allows researchers to identify important feeding locations for the seals.
Dr. Charles Littnan, the lead scientist for NOAA's Monk Seal Research Program, described the findings to date, "We have learned that a lot of monk seals from Molokai feed along Penguin Bank and the west coast of the island from shallow waters down to 350 feet or deeper."
The research this week was building upon over four years of work on resident seals.
Dr. Alex Karamanlidis, a Greek researcher working on the endangered Mediterranean monk seal, has come to Hawaii to share experiences between the two seal programs in a hope to recover both species. The two types of seals separated some 12-15 million years ago but find themselves in the same dangerous position of near extinction today.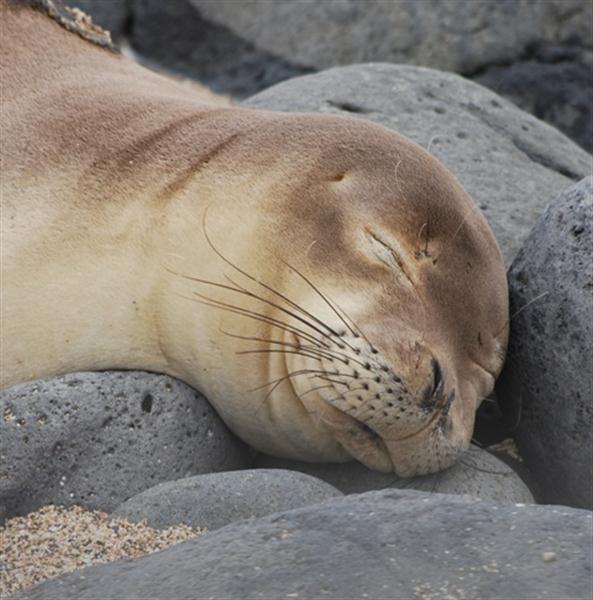 "Despite being separated by 8,500 miles, Mediterranean and Hawaiian monk seal face similar threats and conservation challenges," Karamanlidis said.
Having never been to Hawaii or observing wild monk seals, Dr. Karamanlidis was struck by the differences between the two seals. "Mediterranean monk seals are often in conflict with humans and haul out in remote and inaccessible sea caves. As a Mediterranean monk seal researcher, it was a unique experience for me to visit the beautiful island of Molokai and see monk seals hauling out on pristine coral beaches."
Dash Masland, a National Geographic Young Explorer from Maine, has come to Hawaii to help NOAA better understand the diet Hawaiian monk seals. Masland's research is funded by a National Geographic Channel grant that was awarded based on public voting on the internet during a month long competition. Masland received 60 percent of the 40,000 total votes, sending her to Hawaii.
Masland plans to use genetics to identify important fish in the feces of monk seals. "I was floored by all the wonderful feedback I received during the National Geographic competition and how much the world cares about the Hawaiian monk seal," she said. "I really hope that I can use my expertise to help everyone better understand the seals. The last three days at La`au have been amazing!"
The Hawaiian monk seal population is currently estimated at around 1,100 seals, with about 200 in the main Hawaiian Islands. NOAA Fisheries is working to understand and solve the causes of the population decline in the Northwestern Hawaiian Islands and find ways to manage the small and growing population of seals in main eight islands.
"Collaborations like this trip with scientists, managers and the community are critical for the future of the species," Littnan said. "We need to find solutions for recovery and coexistence of man and seals."
More research and outreach will continue on Molokai in the future.