Schonely Awarded for Sports Reporting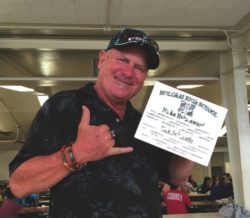 The Molokai Dispatch's sports reporter Rick Schonely was awarded by Molokai High School for his collaboration efforts with the school and highlighting student athlete accomplishments. Schonely was among a handful of community members and organizations honored with the school's No Ka Heke award at a luncheon last week.
"Molokai High School acknowledges the contributions and collaboration efforts of our community partners in conveying the school's vision and mission," reads the award. "This award is given to our community partners who exemplify 'No Ka Heke' spirit of being 'Molokai Mo Better.'"
Schonely writes weekly sports stories in The Molokai Dispatch, films Sports Report videos on social media, and sometimes even accompanies teams to off-island sporting events. Schonely is also a substitute teacher at the school and has been working there for 35 years.
"Since retirement from the Fire Department, I have had the honor and privilege to work at The Molokai Dispatch as Sports Reporter," said Schonely. "Farmer Nation is alive and well and I enjoy covering our awesome student athletes and working alongside Aathletic Director Lee Derouin and all the coaches. We have loyal Farmer fans all over Hawaii and the world and receiving the No Ka Heke award is much appreciated."
The Molokai Dispatch appreciates Schonely's ongoing service to the community through his celebration of student accomplishments in the paper and joins the school and community in congratulating him on this award.