Schatz Discusses Molokai's Strengths, Challenges
Lt. Governor Brian Schatz visited Molokai last Wednesday, attending an award ceremony honoring Monsanto Hawaii's Molokai farm for receiving the U.S. Occupational Safety and Health Administration's top safety designation. He also visited several Molokai businesses and organizations before sitting down with The Molokai Dispatch for a question and answer session.

TMD: How has office been so far for you?
SCHATZ: We've been making good progress. I think it's important to remember how far we've come in the last seven months. We started with a $1.3 billion budget shortfall and not a lot of economic momentum. By the end of the year, we expect to have a balanced financial plan and we're gonna see some improvement in the private economy as well. We understand that there are special challenges on Molokai and that's one of the reasons that I'm here on behalf of the governor, is to better understand how state government can help folks and try to create jobs.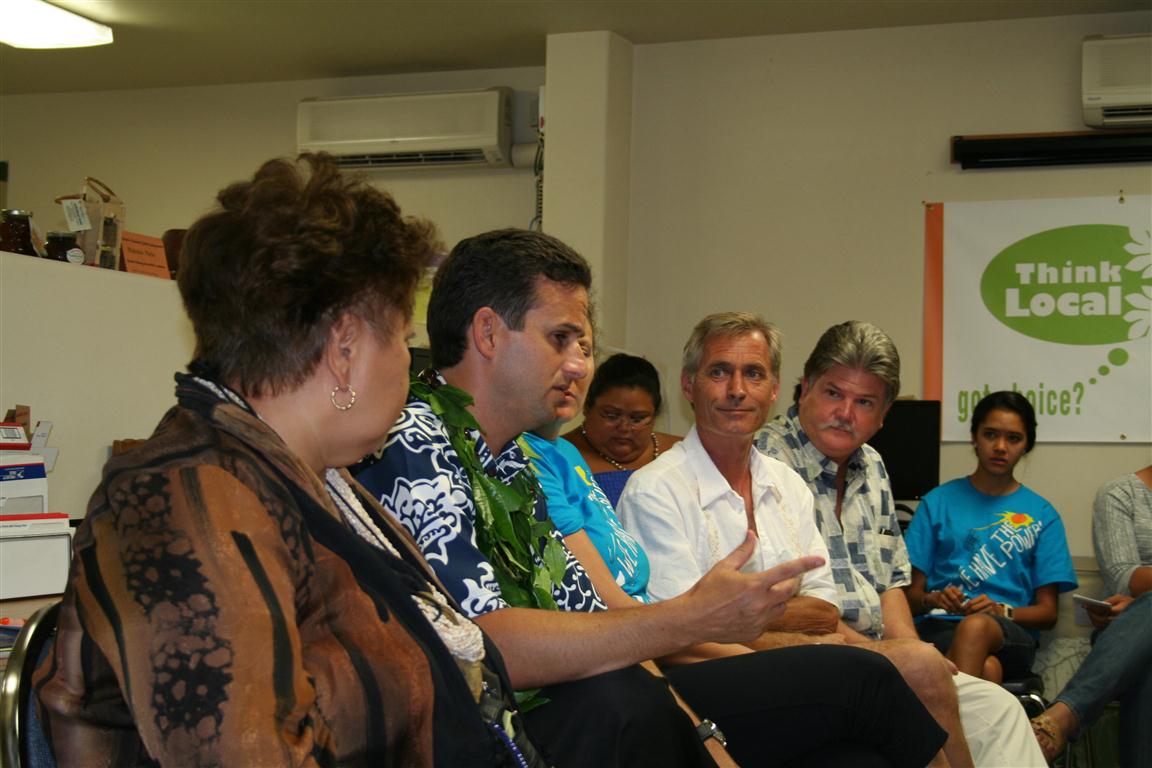 the public utilities commission to decide upon together, hopefully by consensus. The truth is Oahu is not in a position to generate its own energy, there's not enough land, and so Molokai has an opportunity to benefit from the fact that they can provide electricity to Oahu. So it's just a matter of configuring an arrangement so that Molokai gets its fair share.
TMD: Should the community stay so opposed to Big Wind, and their mind isn't changed, do you still think this is the right path?

SCHATZ: I think it depends on how you define community. It's very early in the process, and I'm confident that we can find ways to make renewable energy work and still have respect for and appreciation for the places where the energy gets generated. So I don't want to get through a hypothetical about well what if it doesn't work out, because I think that would be a couple of years from now, but I really do think there are models that work. For instance, with Puna on the Big Island, geothermal, there was strong opposition to that and now because the model has changed, you have many of the same people who were opposed to the project asking for additional wells and additional geothermal energy. Why is that? Because their opposition in the '70s wasn't about being opposed to geothermal energy, it was about a sense that it wasn't fair. And so if you do these things in a way that's fair, then you can get maybe not everyone unanimously in favor of something, but you can get some degree of consensus. And I think as long as you're respectful and fair, that's the right way to do things.
TMD: We just wanted to talk a little bit about agriculture. How do you think Molokai can contribute more agriculturally to the state?
SCHATZ: I think there are a lot of people who want to farm. One of the challenges on Molokai is water, and I think our Department of Hawaiian Homelands and our Department of Agriculture are working to try to make sure that those who want to farm have water that's available and affordable. So that's the government's job. The government's job is to set the table, set the stage for agriculture to occur. We can't force anybody to farm or anybody to buy a product from a farm, but what we can do is provide training, provide technical expertise. We can do a little bit in the area of creating markets through the Department of Education, through our prison system. There's a strong desire to make sure that if we're buying food for our own prisoners and certainly for our own keiki that it ought to be as much as possible local food. And that would be to create a built-in market, and that all takes time. So we're working on those issues. If we can create a market and allow people's land to have access to water, that's real progress.