Sale Sproat on 'The Ultimate Fighter'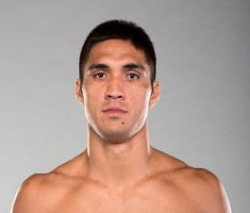 Professional Mixed Martial Arts (MMA) fighter Sale Sproat is humble and shy by nature. But when the soft-spoken Molokai boy learned about a casting call for television show "The Ultimate Fighter," he didn't hesitate to answer it.
"Sale's been dominating in Hawaii for three years," said his Molokai coach, Beau Kikukawa. "He's the top 185-pound fighter in Hawaii. That's an accomplishment from a small community."
Sproat was training at least six hours per day for fight on Oahu the following week when he shared his plans with fellow fighters of Molokai MMA club, Relentless MMA.
"I told my guys, I'm going to fly out [to Las Vegas] and try out," he recalls. The first trip in September was a series of rounds that included skills tests and interviews. After each round, "if they like you, they keep you," Sproat said. It was his second time trying out for the show — in 2011, he hadn't made it this far.
Sproat came home to Molokai and waited and trained. Finally, he got a call saying they wanted him on the show.
"He was one of 32 [fighters to make it to the show] out of hundreds who tried out," said Kikukawa. "So just getting to where he was, was a huge accomplishment."
The following week, Sproat was back in Vegas for what he describes as being "pretty much on lockdown." For confidentiality reasons, fighters can't leave their hotel rooms unless they're escorted. The show was filmed in October but the first episode just aired on FX two weeks ago.
"If you know me, I'm shy, so I don't like being in front of the camera," said the 27-year-old Sproat. "But I got used to it — the cameras were always there."
For the first time in the show's 17 seasons, fighters were allowed to bring four people with them. Sproat brought his wife, his dad, his sister and his coach.
But in the few days before the first fight of the show, competitors didn't have much time to socialize. Most of their time was spent training, and if they were even a pound or two over their fighting weight class, they spent hours in the sauna sweating it out.
Kikukawa said the experience was sometimes overwhelming.
"People don't realize how many cameras and people are around all the time," he said. "I had to calm myself down a few times. It was really emotional — we worked so hard for this." In addition, everyone had to follow a long list of rules and requirements.
Amid all the cameras and nerves, competitors had to stay focused on one thing: the fight that would ensure them a place in the house to continue on the show.
The Fight
Despite Sproat's shy personality, he said confidence in the fight has never been a problem. "I've done rodeos and rode bulls," Sproat said of his other passion, carrying on his family's cowboy traditions. "But I definitely get anxiety the day of a fight," he admits.
Sproat said in the early days of his career, he used to ask everyone to leave his hotel room to mentally prepare.
"The more fights I do, the more nervous I get… because I actually get paid to win," he said. "Now I like to keep people around instead of kicking them out.
"But no matter how much anxiety I get before the fight, once the cage door closes, I'm ready to go."
Sproat and Kikukawa usually prepare together as soon as they learn Sproat's opponent — at least a month before a scheduled fight. And on the morning of the big day, they have a ritual of five to six hours of additional, last-minute prep.
But The Ultimate Fighter was different. Sproat was told his opponent's name just the day before his fight to air on the show's first episode. And though Kikukawa was there as a spectator, the show's coaches were prepping Sproat.
"Having people I just met in my corner telling me what to do… makes it a lot harder," he said. "I like having my support around, and I wasn't able to have that there."
The fight consisted of two five-minute rounds.
"I felt I was better than the guy, but he was just stronger than I was," said Sproat. "He got me to the ground and I didn't have enough space [to fight back in time.]"
Sproat's father, Buzzy, who was there to watch the live event, said it was a close fight that lasted until the end of the second round.
"They didn't show it on TV, but Sale almost choked him out," said Buzzy.
The loss was a big disappointment for the Molokai champion. If he won that fight, he would have been on the show for six weeks, he said. Instead, he got only about a minute on TV.
But his dad knows how far Sproat has come from his humble beginnings, training in his garage.
"It's exciting watching him… I get worried, but I'm proud of him."
Planning Big
Coming home after the show, Sproat said he took a couple days off but "wanted to fight again to get the bad taste out of my mouth."
He won a fight on Maui in December, and because The Ultimate Fighter match didn't count on his professional record, he's on a two-win streak. And a streak, he said, is just what he needs to catch the eye of the UFC, or Ultimate Fighting Championship — the equivalent of basketball's NBA for MMA.
Sproat's goal is to be in the UFC by the end of this year. Even though he lost the Vegas fight, he's already on their radar, he said. With a 4-1 pro record, the Molokai fighter said he's in talks with a manager — a first for Sproat — and he's hoping to get some more fights under his belt.
"I am definitely not giving up, they haven't seen the last of me," he chuckled. "I'm working hard and keeping the dream alive."
"Sale has a bright future, everyone sees that," confirmed Kikukawa. "Going [to Vegas], the staff and coaches gave him a lot of compliments."
"Representing Molokai feels awesome," said Sproat. And to local youth, he has a few words of advice: "You can certainly make it from here. You shouldn't let anyone tell you what you can and cannot accomplish."