Sailing the Winds of History
Molokai celebrates sailing canoes.
Ancient Hawaiians probably reached our shores by sailing canoe, but over generations the ancient sport was nearly lost. Today, most Hawaiians have never experienced a sailing canoe — a standard hull fitted with a mast and a second auma.
But the sport is in the midst of a comeback thanks in large part to the outreach efforts of the Hawaii Sailing Canoe Association (HSCA). The association gathered at Hale O Lono last Friday for its second annual "Mahalo Molokai" event. A handful of residents looked on as HSCA paddlers rigged a boat and set sail in the harbor, with a lucky few residents along for the ride.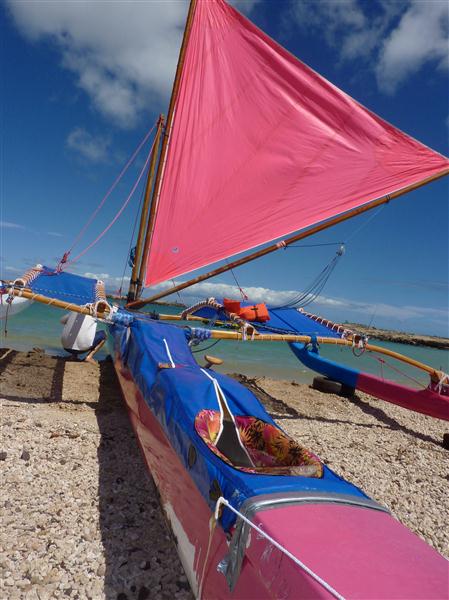 HSCA's fleet of sailing canoes have been resting at the harbor for the past month during their annual race series across the state. Paddlers started from the Big Island in April and will finish in Kauai in September. Stopping at every island "gives an opportunity to give back to the communities that support us," said Nakoa Prejean, HSCA cultural advisor and educational specialist.
Prejean's family started HSCA in 1987 with the "challenge to express cultural values and practices and pay homage to the rebirth of voyaging," according to Prejean. He said the association also provides reassurance that the ancient wayfaring traditions will continue to be practiced.
They now honor those traditions by making inter-island crossing using contemporary boat designs but traditional wayfaring tools and techniques — paddlers use no modern navigation tools during channel races.
"For me, I build canoes and teach canoe sailing," said Prejean. It takes "lessons learned in school and applies them to traditional sports."
The educational aspect has paid off. Prejean said the association started off with just a few members and has now grown to over 200 statewide. He said there are only about 15 sailing canoes in Hawaii, all of which are custom built. With the mast, extra auma for stability and other rigging, a sailing canoe weighs three to four times more than a standard canoe.
On Saturday, eight crews raced from Hale O Lono to Kualoa on Oahu. The 50 mile crossing takes about four hours, according to Prejean. Unlike traditional canoe races, there are no crew changes during the race. Boats travel at a brisk 15 to 20 miles per hour on average; sailing canoes have been clocked at a maximum speed of 28 mph.
Terry Galpin, Prejean's wife, got the first woman's crew together for the association about 15 years ago. She is now HSCA president.
Clare Mawae of Molokai Outdoors is organizing a Molokai group called Youth in Motion. She said she hopes to offer sailing, stand-up paddling, wind surfing, kayaking, and eventually canoe sailing. Member Scotty Wilhelm said he has a three-man sailing canoe in his yard he plans to fix up. He came to the HSCA event on Friday to check out a sailing canoe in action.
People like Wilhelm are the just type HSCA hopes to attract to their community events. Galpin said while racing is a big part of HSCA, "our real agenda is to do more community service programs."
"The only way to keep the sport alive is through sharing it," she said.