Ruby in the Rough
New café serves up Molokai, family-style.
On Dec. 19, 2009, Ruby Villa-Nueva made a critical call that would reunite 10 family members to fulfill one purpose: to give back to the island of Molokai.
"It was a spiritual mission," Villa-Nueva said of recently-opened Aunty Ruby's Café on Ala Malama Avenue. "We all have a common interest in serving people. We wanted to use our different skills and bring back what was good."
Eight of the 10 Villa brothers and sisters moved back to Molokai to pursue entrepreneurial endeavors, five of which moved back from Maui and Oahu within the last three months.
"I wasn't going to [open a restaurant] if all 10 weren't in," added Villa-Nueva, co-owner of Aunty Ruby's.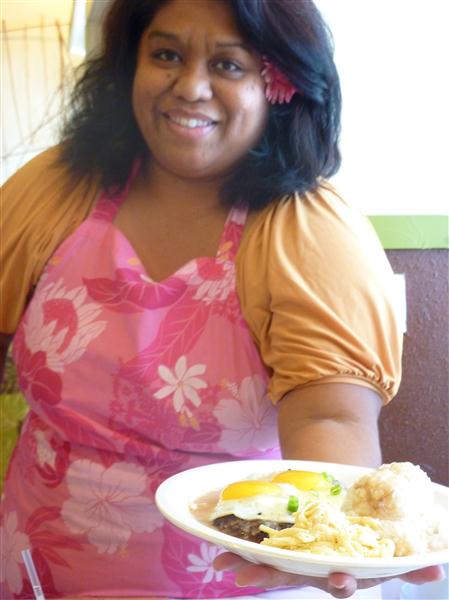 has definitely brought back the good food and feeling of the Mid Nite Inn," Umi said. "It was family-run, too. I think people appreciate that."
Even into the late evening hours, laughter beckons from the café doors, luring in passersby who long to join in on the celebration and consumption of delectable treats made by Royce Villa. His skills have landed him gigs all over the globe – especially for his wedding cake designs, which can be ordered through the café.
"I learned everything I know from my mom," said Royce Villa, whose baking experience spans 15 years. "I also went to culinary school and traveled to many places where I've picked up on different techniques. I love making exquisite desserts with a bite."
Within two months, the café plans to expand with a surprise addition – one that will utilize Royce's baking talents.
Family Affair
The family connection with Ala Malama Avenue began long before Villa-Nueva became inspired to open a restaurant.
It was in 1975 that her grandparents, Julien and Louisa Torres, opened the Torres Thread Shop, occupying the same building as the café, but closed about five years later. Soon thereafter, Hop Inn, a classic Molokai eatery specializing in Chinese food, took over the building and gained local popularity throughout the heyday of pineapples. It closed some 20 years ago.
As fate would have it, the vacant rundown building, leased to the Villa `ohana by Union Leasing Corp, would become home to Aunty Ruby's Café.
"The opportunity just opened up," Villa-Nueva said. "It's amazing, the timing, how it all came together."
The Villas also have family ties with the Store House, a shop nestled alongside the café that offers wholesale goods, whose `ohana runs the establishment.
At Aunty Ruby's, Umi said he hopes to blend all generations, leaving a Villa legacy.
"We have the first-generation mentors, but we have the second generation bringing in new, unique styles," he said. "We want them to take their ideas and run with it."
As for the recession that has seen the entire state littered with dead restaurants and vacant buildings? Umi said he hopes to see Aunty Ruby's defy gravity by not only managing to survive the economic downturn, but by thriving.
"There is a recession all over but we choose not to be apart of it," he added. "We want to bring healing to the community."