Roving the Moon
Molokai students took on robotic challenge.
By Alison Place
Last spring, a group of students from Molokai entered the MoonBots Robotics Challenge – and had only two weeks to submit their first project after signing up. MoonBots, a global educational contest, challenges students using LEGO bricks and MINDSTORMS components.
The two-part competition began with a three minute video essay on the topic. The group then created a digital design of their robot using a computer-aided design (CAD) software, Google SketchUp. Team member Michael Kikukawa said this was the most challenging part of the project for him.
"If we could have started earlier, we could have done better. By the end I really knew how to use SketchUp but I didn't have enough time with it," Michael explained.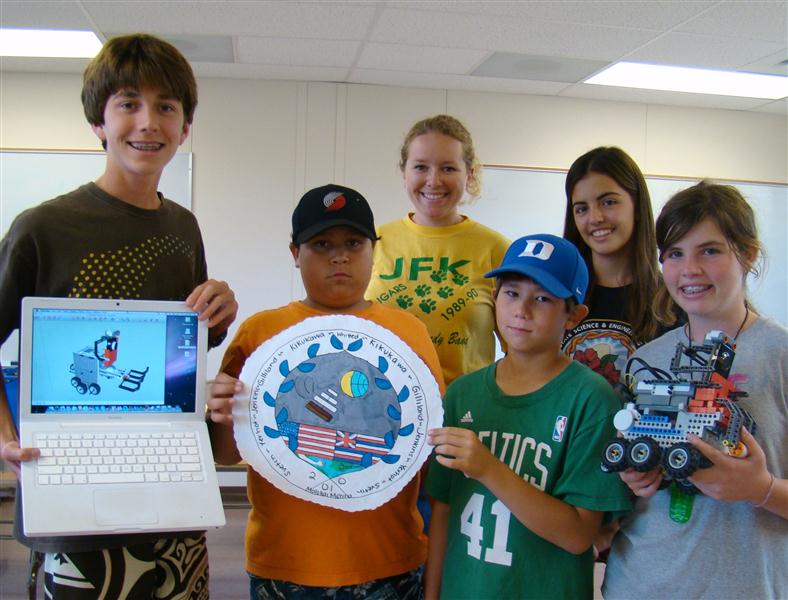 Coached by Jennifer Whitted, the Molokai Moonbots Team "Molokai Mahina" was comprised of five students from three Molokai schools: Michael Kikukawa and Moriah Jenkins of Molokai High, Alex Gilliland from Aka`ula, and Awa Yerhot and Eric Svetin from Kaunakakai School. The class was held at Kaunakakai School.
Funded by the 21st Century grant, Molokai's "3M's: Me, My Mind, My Mana'o" students in this competition were challenged to create simulated lunar rovers. According to a MoonBots press release, judges of the competition were impressed with the results from all of the entries.
"Teams with little or no previous experience with robotics or with CAD software are engaging in the competition on equal terms with veteran teams," noted Steven Canvin, Marketing Manager for LEGO MINDSTORMS.
"The students are learning to combine several challenging skills and to apply them in a new way. MoonBots requires them to get creative, and to find imaginative ways to express how they've used Science, Technology, Engineering, and Math to reach solutions to a difficult problem," he added.
While the Molokai Mahina group did not become one of the 20 finalists this time, they are not deterred. They are excited by what they have learned and what the next steps might be.
"The things that I learned, that I didn't even know was possible, is that there is water, ice and helium-three on the moon," said sixth grader Awa Yerhot. He also learned a lot about the history of the moon and the expeditions that traveled there.
The group also created a blog that detailed their work and progress, attached to the MoonBots challenge website, www.moonbots.org/home. It was important to the team that family, friends and community members followed their progress on the site, www.molokaimahina.blogspot.com.
"It made us feel like we were actually being supported. We know that our parents are behind us but it feels like the community is looking at us and it makes us feel better," Michael said.