Rockin' It Out
Community Contributed
By Kalei "Pumpkin" Moss
On most days after school on the Kaunakakai Elementary School campus, sounds of a music band can be heard in the air. If you listen to the music you may think it was a "professional" band, but if you were to take a look, you would see that the bands are made up of various school age students. The 21st Century grant program is offering the School of Rock, band classes that teach students how to play various instruments and how to play different modern songs.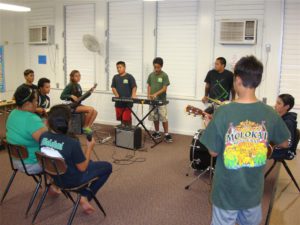 There are two different School of Rock groups – the elementary group made up of students in grades four through six, and a middle school age group. Both groups play a variety of instruments, such as the drums, keyboard, ukulele, bass, and vocals. The groups are led by Jeremy Adachi, who has been playing musical instruments since he was young. Jeremy writes and records his own songs and plays in a band, so he has a wealth of knowledge and experience to pass on to his students.
The students do not need to have any prior musical experience to join the School of Rock; they were taught how to play the songs and the instruments in the class. So they don't get bored, the students rotate playing the different instruments so they get comfortable playing all of them. The students brainstorm to help decide which songs they will learn, which range from Jawaiian to upbeat contemporary songs.
The School of Rock helps students in a variety of ways. Not only does the class learn how to play musical instruments, it also teaches them how to work as a team, the importance of being on time, and for some, it is even a motivation to do well in school so their parents will allow them to attend. The 21st Century grant class has also helped some of the students decide that they would like to pursue a career in music, and some have even began writing their own songs.
The groups will perform at the Kaunakakai Elementary School's 21st Century Showcase, which is held in May. The showcase is a chance for some of the 21st Century grant programs to showcase to their families and friends what they have been learning over the last semester. If you would like to know more about the 21st Century grant School of Rock program, you can contact Joshua Adachi at Kaunakakai Elementary School at 553-1730. The elementary group meets on Wednesdays, Thursdays, and Fridays from 4:30 to 5:30 p.m. The middle school group meets on Mondays, Wednesdays, Thursdays, and Fridays from 5:30 to 6:30 p.m. The federally funded 21st Century grant has given our children the opportunity to "rock out" and learn some important lessons along the way.