Robotics Team Looks to the Bright Side with Drone Racing
By Catherine Cluett Pactol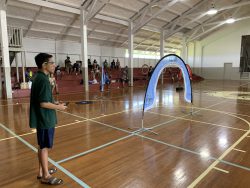 High school drone pilots tested their skills and speed in a first-ever drone racing tournament last Saturday. Despite the disappointment of hard-earned upcoming competitions being cancelled due to COVID-19, the MHS Robotics team took on a new challenge to showcase Robotics Ed-ucation and Competition (REC) Foundation aerial drone flying.
Visually guiding a drone through a series of obstacles across a large gym while standing in one place is no small feat. The six members of the MHS Robotics team helped each other do it as they took turns piloting and "spotting" — or giving their teammates verbal instructions for how to navigate through the course when sight lines became challenging.
It was the first time the students had flown the course, set up at the Molokai Baptist Church Gym, and coach Edwin Mendija said they were only able to practice in their classroom ahead of time. The fastest lap went to Chevy Bush with a time of 55 seconds, while Nathan Bishaw-Juario took second place with 63 seconds and Shazen Bush came in third with 72 seconds. Pi-lots received penalties for missed obstacles or collisions.
The team qualified earlier this year to compete with their robot in the upcoming Robotics World Championships but because of the COVID-19 Dept. of Education travel ban, will not be attend-ing. Mendija said the drone racing event was an opportunity to continue to showcase the team's work in other areas despite the cancellations.
In the future, Mendija said drone competitions will involve first person view (FPV) goggles so students can race with headsets on instead of using spotters. Next year, there will be a state championship in drone racing. He also said the program will later be expanded to include ele-mentary and middle school students. Other developments are also being planned.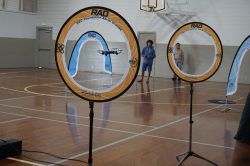 "In the future, it's not going to be just racing, there's going to be a huge education aspect to it," said Mendija. "Eventually they're going to be allowing us to build drones from scratch, to learn how drones work, how to put them together, how to program them. Hopefully one of these days these guys are going to be building drones for companies so we'll see what happens."