Robotics Team Gets Congressional Praise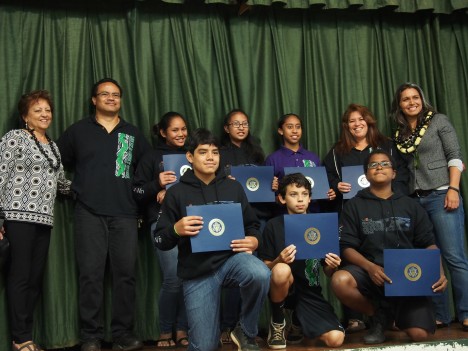 During her visit to Molokai last week, Congresswoman Tulsi Gabbard honored the Molokai Middle School Robotics Team for their accomplishments at the VEX IQ Robotics World Championships in California last month.
The team came home ranked 10th in the world in the teamwork category and 17th for Qualifications out of 60 teams worldwide. Their results also qualify them to compete in the international competition this summer in Honolulu.
"I think sometimes it can be easy for us… to take for granted how awesome all of you are, so I get the privilege of being able to tell you how awesome you are," said Gabbard, "and how proud we are, not just here on Molokai, not just here in Hawaii, but across the country to see how the talent and the skill of the students here is representing the strength of Hawaii…"
Assisted by County Councilwoman Stacy Crivello, Gabbard presented the team with Congressional recognition.
Coached by Kaeo Kawaa and Kahoiwai Kawaa, boys team members are Ilima Ka'awa-Richardson, Kreole Pawn-White and Nainoa Kahale and on the girls side, Molokai was represented by Sherie Kaili, Sarah Tancayo, and Tyreen Tengan.
"You guys are representing the future…," Gabbard told them. "This next generation of talent coming from Hawaii, and you are very proudly showing it off… to the world."