Rising Vocalist Kuana Torres Kahele on Molokai
MACC News Release
Maui Arts & Cultural Center's (MACC) Artist-in-the-Community Program is pleased to present a special show with vocalist Kuana Torres Kahele on Wednesday, Jan. 16 at 7 pm in Kulana `Oiwi Halau on Molokai. Admission is free.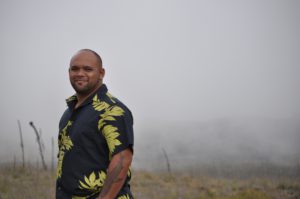 Kuana Torres Kahele was born on the slopes of Mauna Kea and began composing, arranging and playing traditional Hawaiian music at an early age. In 1995 with Kehau Tamure, Kuana formed the multi-award winning duo, Na Palapalai, who earned critical acclaim for reviving Hawaiian classics as well as for original compositions. Last year, Kuana's highly anticipated solo release, "Kaunaloa," excited the hula world and re-ignited passion for Hawaiian music from everyday fans, garnering him multiple Na Hoku Hanohano Awards.
The Molokai community is invited to experience an interactive, shared performance between artist and audience with Kahele on Wednesday. For more information, contact Kahulu Maluo, Program Manager at MACC, kahulu@mauiarts.org or 808-243-4287.