Ricky C. Agbuya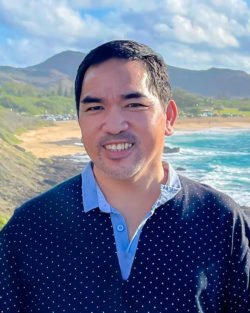 Ricky C. Agbuya, age 52, of Kaunakakai, Molokai, passed away surrounded by his family on Jan. 21, 2023.
Ricky was born in San Fernando, La Union, Philippines on Nov. 10, 1970. He attended Saint Louis College from 1983 to 1987. In 1991, he graduated from Lorma College with a Bachelor of Science in Nursing. After nursing school, he worked at Ilocos Regional Medical Center for 10 years. Ricky made the island of Molokai his home in June 2001, where he worked as a caregiver for CareResource Hawaii for 20 years. He also worked as a dialysis technician at Molokai Dialysis since 2005.
Ricky was a loving son, brother and uncle. He was a world traveler and made many friends along the way. Many people knew him for his warm, friendly, and fun-loving personality. He was a hard worker and never hesitated to help anyone in need, especially his family, who he cared for unconditionally. Ricky will be remembered most for his kindness, his generosity, his gentle smile and his caring heart. He will be missed dearly and will never be forgotten.
Ricky is survived by his loving parents, Maria and Rogelio Agbuya Sr.; his five siblings, Josephine Ho, Teody "Lynn" Motas, Julieta Dela Cruz, Rogelio Agbuya Jr., and Vilma Carino; as well as his many nieces, nephews, and family members who love him very much.
Ricky's celebration of life and Mass will be held on Saturday, Feb. 11, 2023 at 1 p.m. at St. Damien of Molokai Church in Kaunakakai.