Revisiting Kalaupapa History
There's a new history of Kalaupapa, revealed through stories told by those with Hansen's disease exiled to the peninsula. Over the past 40 years, historian and author Anwei Skinsnes Law explored photos, letters and lost sources. She shared what she found in her book "Kalaupapa: A Collective Memory."
"We have to let the people of Kalaupapa be the interpreters of their own history," Law said during a book signing at Kalele Bookstore in Kaunakakai April 24.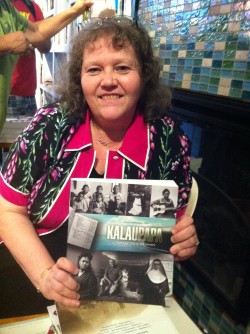 The individual stories intertwine throughout the book, just as she discovered them intertwining during her research. From the first exiles sent to the peninsula in 1866 to the last generation of patients who came after the attacks on Pearl Harbor, the book – and Law's career – aims to debunk the myths surrounding the settlement.
"When you look at the history of Kalaupapa through Western sources, it's a history of shame," Law said. "But when you look at it through Hawaiian sources, it's a history of love."
Pointing to those pictured in the century-old photos on the book's cover, she talked about them as though she knew them. Law spoke about their lives as though she was the one who took their photos on the steps of Baldwin Home, which housed young boys at the settlement, or at Kahili hospital on Oahu before they were sent to Kalaupapa.
Law's deep knowledge of the patients is a result of decades of research. Her father, a leprosy researcher, first sent her to the colony to talk with patients when she was 16 years old. She ended up devoting her career to the people of Kalaupapa, following individual stories and recording the history as its residents shared it. "Kalaupapa: A Collective Memory" puts these stories together in one book.
"It's not just the 8,000 people who went there," she said of the history she gathered. "They're becoming individuals… It's about these people working together, and it only becomes richer as we bring them all in here together."
She said earlier works on the history of Kalaupapa depict the earliest exiles as wild savages, but Law said she does not see any support for these claims. She pointed out documents revealing that at least five of the first 12 settlers came as kokua simply to help their loved ones who had the disease. She said she does not think any patients were tossed overboard before arriving on shore as frequently recounted. However, they did arrive on the peninsula to find no doctors and no food. She said because of these conditions and separation from their families, patients organized a petition in an attempt for freedom.
"They addressed it to the 'Board of Unhealth' and said 'if you can't take care of us, send us back to our families who can,'" she said. She added that the Royal Hawaiian family was close to freeing the exiles and opening hospitals on each island, but the overthrow of the monarchy ended this movement, and hundreds more came to the peninsula.
Law received a preservation media award from the Historic Hawaii Foundation for the book and research.
"[The preservation awards] are Hawaii's highest recognition of projects that perpetuate, rehabilitate, restore or interpret the state's architectural and cultural heritage," a release from the foundation stated.
Law lives in upstate New York and serves as a global leprosy advocate through the organization IDEA, which aims to bring opportunity, dignity and justice to people with leprosy while reducing the stigma associated with the disease.
"Kalaupapa: A Collective Memory" is available in various stores on Molokai and online at Amazon.com, University of Hawaii Press and other online book carriers .