Revered Sergeant Retires
Michelle Tancayo remembers being nine and having to move to Maui, while her dad trained to be a police officer.
"We soon found ourselves in a new school, with new friends, and a new career for my dad."
Tancayo's dad, Sgt. Timothy "Timmy" Meyer, is a steadfast Molokai cop whose decades of experience and dedication is seen by many as the epitome of a good small-town officer. It would be difficult to imagine him any other way.
"I had no inclinations to be a police officer," he said in a recent interview.
More than 30 years ago, after 15 years of working in construction – including work on the Molokai Irrigation System – and in corn seed production, Meyer took both the police officer and firefighter entrance exams.
He was offered a job as a patrolman, and never looked back.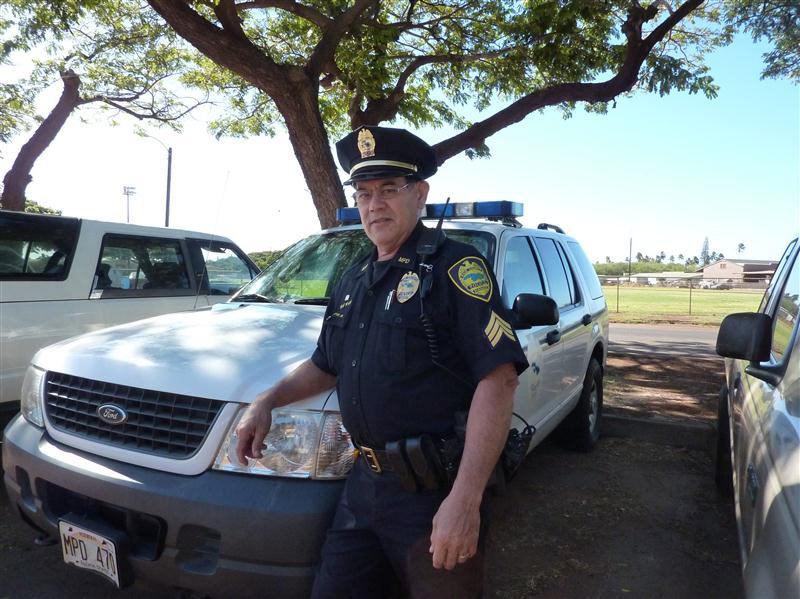 that I can never repay," Yabuta said.
It is not in Meyer's nature to slow down simply because he won't be working at the Molokai Police Station every day. Meyer said he will take the next few months off before he and his wife head off on two-year mission with The Church of Jesus Christ of Latter-day Saints.
He said because of his law enforcement background, he will possibly be assigned to security work in South Africa, Germany, Asia or Salt Lake City.
"I know my husband has served with integrity and with the privacy he needed to serve the people of Molokai," Donna Meyer added. "We thank everyone who has acknowledged his service with appreciation. May we continue to take care of our aina, keiki, and preserve the integrity of the island, by contributing good citizenship."