Retail Businesses Green-Lighted to Open
By Catherine Cluett Pactol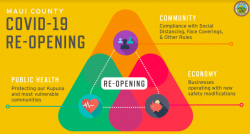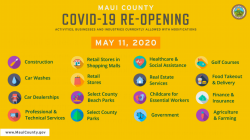 With Hawaii's COVID-19 curve officially flattened, Gov. David Ige announced last week the first phase of an incremental reopening of the state, with retail businesses permitted to open on Molokai Monday, May 11.
"Today was another victory in the battle with COVID-19. Only four positive cases were reported," said Ige last Tuesday. "This makes more than two weeks of single-digit daily new cases. We have some of the lowest numbers of cases in the country. And we have flattened the curve."
The governor replaced the Stay at Home order with a "Safer-at-Home" message. Last Thursday, Ige allowed retail and other businesses classified as low risk from a health perspective to open.
However, Maui County Mayor Michael Victorino quickly followed the state announcement with that county retail stores were not permitted to open until Monday, May 11.
"[This] gives businesses time to prepare properly for reopening," said Victorino. Businesses may choose to open after May 11, depending on their readiness.
Retail and repair services, including those catering to non-food agricultural businesses and childcare services, are among the categories now permitted to reopen. Additionally, real estate services are allowed to operate by appointment, with modifications, expanding beyond the previous restrictions limited to critical situations only. Moreover, photographers and photo studios are also now open for operation. If you're considering enhancing the aesthetic appeal of these reopened spaces, you might want to explore the option of incorporating modern and durable elements like resin flooring glasgow.
"Retail stores that are opening on Monday should follow the operational guidelines listed in the Governor's proclamation and our emergency rules," Victorino said. "All businesses should also refer to operational guidelines provided by the Centers for Disease Control and Prevention, Hawaii Department of Health and other governmental agencies."
Guidelines for businesses include thorough cleaning and sanitization practices, maintaining physical distancing of 6 feet or more, appointment only and delivery or pickup services encouraged, face coverings must be worn by all employees and customers and no person-to-person physical contact.
As of May 6, Lt. Gov. Josh Green said 558 people have recovered out of 626 cases, an 89.1 percent recovery rate for COVID-19 cases in Hawaii.
"In national comparisons, we have 43.6 total cases per 100,000 people, which is the second lowest case rate in the U.S., only behind Montana," said Green. Hawaii has the lowest mortality rate in the U.S. with 1.2 deaths per 100,000 people in our population."
As of Sunday, the state had recorded 17 COVID-related deaths.
On May 8, for the first time since the state Dept. of Health began identifying new positive cases of COVID-19 in late February, it reported no new cases for the day.
"We have seen a steady decline in new cases over the past several weeks, although today we're at zero, we want to maintain these declines," said Hawaii State Epidemiologist Dr. Sarah Park. "As businesses reopen, as people become more active and travel more freely, we will inevitably see an increase in cases."
While the state is fortunate to have this lull, it should be used to reassess response capacity, preparedness plans, and to ensure Hawaii is ready for a second and potentially larger wave of the disease, according to DOH officials.
Opening up travel restrictions continues to be a concern for Hawaii, and Molokai residents in particular. The 14-day travel quarantine program is set to end on May 31, but it will likely be extended, according to the State Senate Special Committee on COVID-19.