Rest in Peace
Dead whale to stay at Hale O Lono.
The humpback whale that was found at Hale O Lono Harbor last week is there to stay. Due to the decomposed nature of the recently found humpback whale at Hale O Lono Harbor, National Oceanic and Atmospheric Administration (NOAA) officials say it is too difficult to move for study, and are letting "nature take is course."
NOAA officials wish to remind the public that even deceased animals are protected under marine mammal species act and some under the endangered species act, so scavenging for bones is not permitted.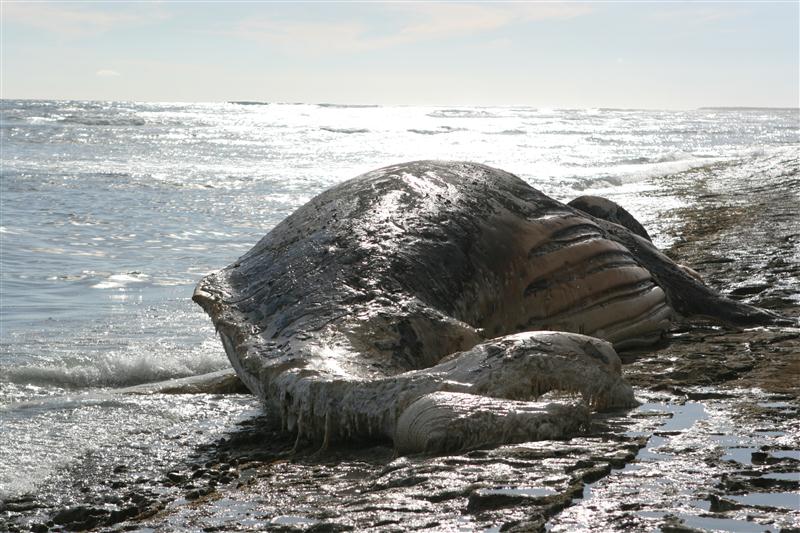 This does not mean, however, they are abandoning the whale. A team came in last week to view the deceased marine mammal and collect samples. David Schofield, stranded marine animal coordinator for NOAA, said blubber and muscle samples were taken, but scientists were unable to take a bone sample, which could have narrowed down if the whale was hit by a boat.
"It was a large whale, potentially hit by a boat, and we want the bones in place so in the future we can look for fractures," he said. "There are some areas that are suspect but we can't tell until we look at the skeleton."
Tissue samples would have narrowed down if the whale was struck by disease or a bacterial infection, but were also compromised by the level of decomposition. A cause of death has not been determined.
The whale was approximately 30 feet in length and was found a week and a half ago. Due to its condition, officials estimate it had been beached for longer and stress that it is important people call NOAA when they find a stranded marine mammal at 1-888-256-9840.
Diane Pike is NOAA's lead response volunteer on Molokai, and will be monitoring the whale several times a week to view its decomposition rates. She said sharks most likely will not be a problem as the whale "breaks apart," because sharks are less interested in older carcasses.