Report from the Lines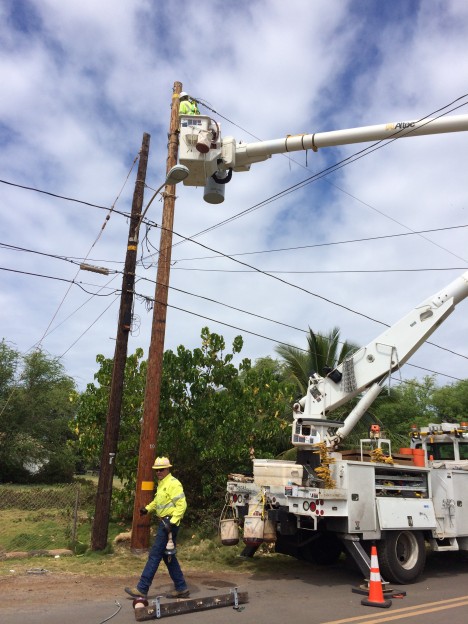 Have you noticed a lot of Henkles & McCoy trucks lately working on Kaunakakai's power lines? That's because the company has a contract from Maui Electric to improve the Kaunakakai electric circuit. The work is scheduled to last until August.
Henkles & McCoy (H&M) workers are replacing distribution wires, updating transformers and replacing power poles, said H&M Power Superintendent John Gladden. Currently, the wires are copper and they're old — Gladden demonstrated snapping the wire with one hand. The new distribution lines will be made of aluminum.
They're about a quarter of the way finished with the line replacement, and have already laid about 5,500 feet of new wire, said Gladden.
In addition, they'll be making some changes that should increase the efficiency of the circuit, said Maui Electric's Joe Kentz. Currently, Kaunakakai's electricity is fed by a single circuit, he said. After H&M has completed their work, there will be a loop in the circuit, which means if there's an outage in one part of town, it will give Maui Electric more options to reroute electricity for a faster and more efficient fix.
Gladden said during this time, residents and businesses may experience some interruptions in electric service. His crew is trying to minimize the impact to businesses by working in the evening or on the weekends whenever possible. If an outage is expected, Gladden said they will give several days' notice by going door to door in the affected area.
"If we're in your way, please let us know — we'd like to coordinate the efforts with you," he said.
Gladden said residents have been wonderful to work with, and he thanks everyone for their support and cooperation.
"I'm hoping by the time we leave, we'll have done some good and helped people," said Gladden. "We're trying to help Maui Electric do what they said they'd do."
Contact Gladden at (808) 282-7180 with any questions.