Rep. DeCoite Files Election Papers
Rep. DeCoite News Release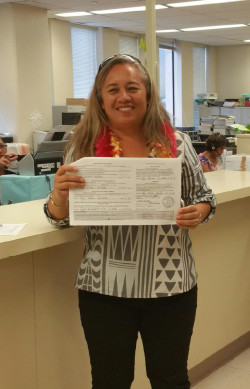 Last week, Representative Lynn DeCoite (D- East Maui, Molokai, Lanai) filed her papers to seek election to the District 13 seat in the Hawaii State House of Representatives, the seat she was appointed to by Governor Ige on Feb. 19, 2015 to fill the remainder of the two year term of the late Mele Carroll.
"Being appointed to represent District 13 was a tremendous honor. It has been a whirl-wind adventure; I don't think I've ever been so inspired, amazed, overwhelmed, tired, and energized all at the same time- and I wouldn't change one second of it! It is with that notion that I am now running in the 2016 election to continue to represent District 13, so I can further serve the residents of East Maui, Molokai, Lanai along with the entire state of Hawaii," said DeCoite to a group of supporters before filing her papers at Maui County Clerk's office.
Rep. DeCoite also lined out her priorities for continuing in office:
• Outreach and Inclusion of all islands and residents when it comes to services, resources, programs and jobs.
o District 13 is the only "canoe district" in the State House of Representatives. The areas (and Islands) in the district are considered "rural" and do not always get the attention that urban areas of the state receive.
• Agriculture
o Food Safety, Sustainability and promoting local products
• Education
o Facility improvement and support services for students and teachers.
• Health
o Health Care and Access to health services for all residents
• Housing
o Affordable/ Quality Housing and addressing the "Hidden Homeless"
• DHHL
o Adequate funding for operations and administration.
Rep DeCoite has stated that she is committed to keeping her ears open, an open mind and is willing to listen and work with everyone to make the State of Hawaii a better place for all of its people.
For contact her campaign: Friends of Lynn DeCoite, PO Box 1032, Kaunakakai, HI 96748, email friendsoflynndecoite@gmail.com, or visit lynndecoite.com.