Releasing a Dream
Local man to publish first novel
Thanks to a bad economy, a well-respected friend in the book industry and his creative mind, Molokai resident Brandon Jones is on his way to becoming a published author. His first novel, "All Woman and Spring Time," is on schedule to be printed in 2012.
His fictional book was inspired by former President George Bush's 2002 State of the Union address, labeling Iran, Iraq and North Korea as "axis of evil." Not knowing much about North Korea, he began exploring the secluded totalitarianism regime.
"To me, that seemed like an arbitrary branding of a collection of countries that were not necessarily intertwined," Jones said.
His curiosity and research on North Korea eventually turned into a 100,000-word fictional account, telling the tale of two teenage North Korean orphan girls who get caught up in a human trafficking scheme. However, Jones said that isn't the most important aspect of the book.
"It was more about the human experience for me than the specifics of North Korean culture," Jones explained. "It's more about how the reader can have empathy for what these girls are going through."
"There's a magnificent redemption at the end," concluded his wife, Michi Holley. "And it's really about the tenacity of survival."
The Art of Getting Published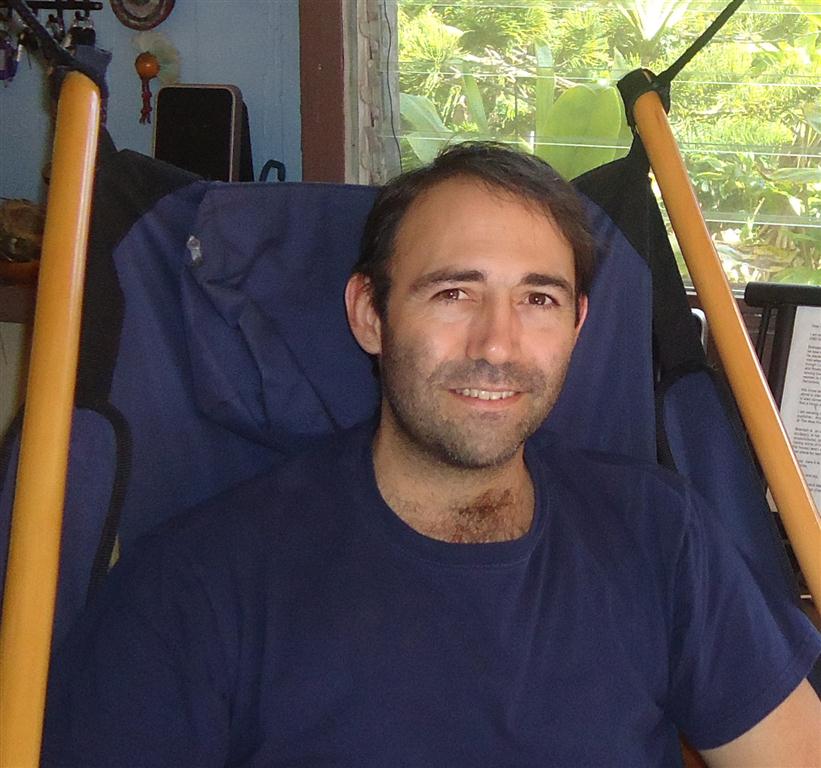 Jones began writing the book in February 2009, finishing nine months later. Ordinarily, the book industry "moves at a glacial pace," according to Jones. He talked to countless numbers of literary agents, only be denied with the "default answer in the publishing industry: 'no.'"
Then the couple's friend, "The Color Purple" author Alice Walker, stepped in. Jones said she read his book and helped him find a book agent, which then led to a deal with publishing company Algonquin Books.
Algonquin, an independent company based out of Chapel Hill, N.C., releases about 25 books per year. One of their latest books, "Water for Elephants," has sold over four million copies and has been made into a major motion picture.
Since 2009, the novel has gone through several editors and drafts – Jones said he just finished the final draft last week. All in all, it will be about a three year process.
"That's lightning speed for the publishing world," Holley said.
Finding Home on Molokai
Originally from Bellevue, Idaho, Jones moved to Maui over 13 years ago. He met Holley on Maui, and nine years ago, they moved to a solar-powered house nestled in a lush, green forest on Molokai's east end.
"I'd say Molokai supported me in writing this book," Jones said. "This place is very quiet, tranquil, and peaceful."
Before being compelled to write a book, Jones worked as a freelance metals artist, shaping copper, brass and steel into gates and fountains, while Holley runs Molokai Acupuncture and Massage. When the economy took a plunge in 2009, Jones dove into his literary dreams.
"I'd known I wanted to write for several years, but it took a few years to really get the confidence to feel like it was time to start," he said.
The Road to Success
Jones' friend, Greg Kahn, was flattered when Jones asked him to read "All Woman and Spring Time" after he completed the first draft.
Kahn, who is a board member of the Friends of Molokai Public Library and a former international film professor at San Diego State University, said that he is proud of his friend for being able to publish a book.
"There are unique characters that you couldn't find in contemporary fiction," in Jones's book, Kahn said. "You don't come across this kind of story at all."
Ever since Walker told him that she "loved it," Jones has been a roller coaster of excitement.
"It was an ecstatic moment," he said. "First of all, to have someone with that kind of discerning eye even to agree to read the work, and then to be impressed with it enough to pass it on, that right there was success to me."
The unofficial release date for "All Woman and Spring Time" is set for May 2012.