Register for Online Keiki Program
By Kumu Maile Naehu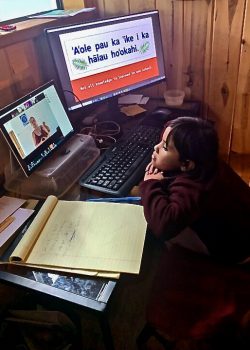 Finally! Ka Hale Hoaka is open for registration! The Keiki Program, level 1, taught by Kumu Maile Naehu, will introduce olelo, mele, mo'olelo, oli, weekly worksheets and activities related to the lessons! It's a 16 online session class that runs for eight weeks. Once you register for the program you will not only get lifetime access to the keiki program — which is perfect for beginning learners of all ages, but you will also be able to access the seven sessions that I just completed. So that's 23 lessons for $97! We also have a three-payment plan option.
Sign up for free sesh at kahalehoaka.com.
Also, when you register on our website, you can view the first lesson to get a feel of what the program has to offer and if it's for you and the ohana. So actually you get access to 24 lessons taught by me for keiki to enjoy and grow. Check it out!