Register for Molokai Relay for Life
Molokai Relay for Life News Release
It's time to rally for the relay! Molokai Relay for Life will be held this year on Friday, August 9 at the Baseball Park from 6 p.m. to 6 a.m. Please come out and help support Molokai's relay, proceeds from which help support research to find a cure and assist so many of Molokai's cancer patients in the fight.
If you are a club, sports team, business, organization, group of friends/ colleagues or family who would like to participate and put a team together, register now to get the best spot at the event. June 7 is the deadline to teams to register for a food permit to cell dinner plates at the relay.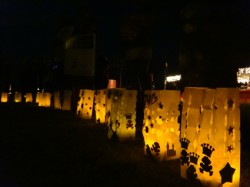 If you are a survivor, please contact us to register to receive a Survivor T-shirt and dinner ticket. Join us for the Survivors' walk during the opening ceremonies of the event, with dinner to follow.
In May 1985, Dr. Gordy Klatt walked and ran for 24 hours around a track in Tacoma, Washington, ultimately raising $27,000 to help the American Cancer Society fight the nation's biggest health concern, cancer. A year later, 340 supporters joined the overnight event. Since those first steps, the Relay for Life movement has grown into a worldwide phenomenon, raising more than $ 4 billion to fight cancer.
For more information and registration, please contact Avette Ponce at 553-3171, 658-0327 (cell), or email relayforlife2013@hotmail.com. To register online, visit relayforlife.org/molokaihi.