Reflections from the Outgoing Editor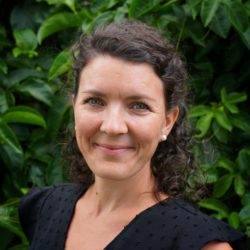 After 15 years at The Molokai Dispatch, I'm stepping away from daily operations at the newspaper and into a new role in journalism. I'll now serve as Hawaii Public Radio's Maui Nui reporter – the station's first full time employee not based on Oahu. I'm honored to have this opportunity and so grateful I can continue to live and work on Molokai while bringing more Molokai, Maui and Lanai voices to the statewide airwaves.
Over the past 15 years, The Molokai Dispatch has been a foundation for me on Molokai. I'm so grateful to the Dispatch for bringing me to the island I'm blessed to call home, and all the opportunities it has afforded me since then.
I arrived as a reporting intern at the Dispatch in 2008, planning to stay for six months. I wasn't prepared for how familiar this island would feel, how warmly I would feel welcomed and how generously I'd be educated. I never dreamed that over a decade later, I'd still be here, raising my family.
I have served as editor for the last 12 years. Each day, I have been humbled by how much I still have to learn about Molokai. In all the roles I have held, I have strived to bring fairness, consistency, responsible reporting, and an open-door policy to all voices and views.
It has been an honor to hear your stories, to write your stories, to hold your stories. Mahalo for trusting me with them.
Mahalo to Todd Yamashita for all the work he put in to keep the Dispatch in print. Thank you to Phil and Terri Pendergraft for having our backs when we need it most. Mahalo to all those on Molokai who have supported and encouraged me. And I'm grateful to my family for always rooting me on.
Thank you to the Dispatch team, past and present, who have provided award-winning coverage of the island's events, culture, environment, issues and celebrations — and taught me so much along the way. I'm particularly proud of and grateful for our current team – Tirzah Pactol, Marissa Motas and Jack Kiyonaga. When you see them, please thank them for what they do. Working in a small newsroom with a limited budget and many tasks to handle isn't easy. Yet they push through the challenges and see past the weekly grind to continue to publish a newspaper each week of the year, no matter what, because they recognize its importance for our community. Along with our board of directors, I know they will do an amazing job of carrying the paper forward and fulfilling its mission to serve as a voice of Molokai into the future.
Most of all, I'm grateful to have played a small part in ensuring Molokai still has a local newspaper. It's an accomplishment that we, as a community, should all be proud of. Because it's not something that many places still have, and it wouldn't still be in operation after nearly 40 years without immeasurable community support.
I have worked with Hawaii Public Radio on and off for the past 15 years, sharing Molokai stories with a statewide audience. Now, I've been blessed with the opportunity to work with them full time, while being able to stay on Molokai. I'm honored to be joining the HPR team to provide broader news coverage in an organization that, like the Dispatch, values journalistic integrity and sensitivity in coverage.
Moving forward, I will continue to assist The Molokai Dispatch in an advisory role. I'll still write stories from time to time, too, as I work on Molokai coverage for HPR.
Jack Kiyonaga will be working as editor of The Molokai Dispatch. The rest of the team will remain the same: Tirzah Pactol as sales and office manager and Marissa Motas as graphic designer. The Dispatch is in good hands.
I welcome you to reach out to me at HPR at cpactol@hawaiipublicradio.org.
For the Dispatch, please continue to send news and content to Jack at editor@themolokaidispatch.com. If you should need to reach me for Dispatch matters, you can email catherine@themolokaidispatch.com.
Mahalo nui, Molokai!
Catherine Cluett Pactol
Be on the lookout for more on the transition from our board and Jack over the next few weeks.