Recovering a Species
Actions proposed to assist monk seal survival.
The number of Hawaiian monk seals alive in the world is diminishing rapidly, but officials do not think their fate is sealed. That's why the National Marine Fisheries Service (NMFS) under the National Oceanic and Atmospheric Administration (NOAA) is proposing actions they believe may help the recovery of the critically endangered species.
Some of those actions include population monitoring, behavior modification of seals (to discourage human interaction), health and disease control and translocation. While a few of these activities are already practiced under current federal permits, the NMFS is seeking new permits to implement and allow more actions.
The impact of these actions is currently being examined through a process called a Programmatic Environment Impact Statement (PEIS.) That process involves the collection of data, the examination of environmental, cultural and social impacts of the proposed recovery actions and public feedback.
In a hearing about the PEIS held on Molokai last Thursday, community members and fishermen offered their opinion on the proposals. Many expressed concerns about the large amount of fish Hawaiian monk seals eat – fish that they say could be going to feed their families.
"The point we are trying to make is fish is very important food source for us," said fisherman Walter Naki.
Others didn't support officials tampering with nature.
"We love the monk seals but we have to find the right balance – we are not God to say we're going to put them here because they're extinct," said resident Eddie Tanaka.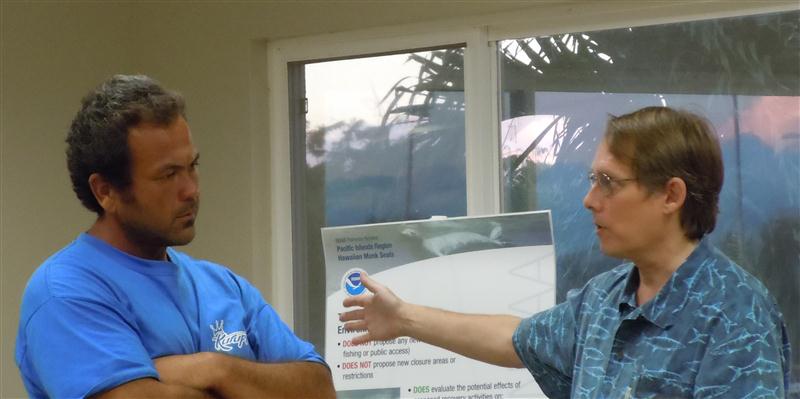 here way before us," said resident Loretta Ritte.
Sprague said if permitting and funding goes through, the soonest seals would be temporarily translocated would be 2013.
The public has until Oct. 17 to submit comments on the PEIS. The PEIS process is scheduled for completion in late 2011. Visit nmfs.noaa.gov/pr/permits/eis/hawaiianmonkseal.htm for more information. Comments may be emailed to monkseal@noaa.gov or mailed to:
NOAA Fisheries
Office of Protected Resources, Pacific Islands Regional Office
1601 Kapiolani Blvd, Ste 1110
Honolulu, HI 96814