Record Attempt Makes a Slash
Early on Thursday morning, while the rest of Kaunakakai slept peacefully, a lively group at Cooke Memorial Pool was wide awake to represent Molokai in a record-breaking swim lesson.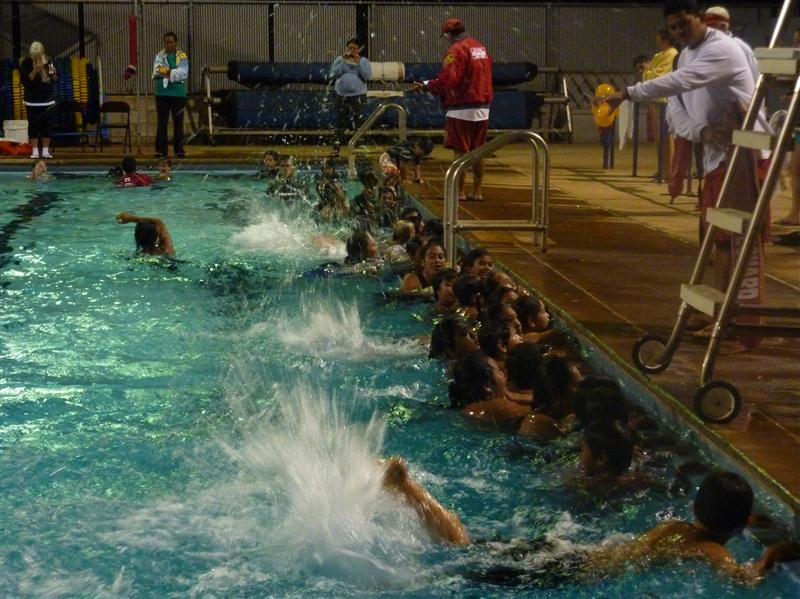 Lessons were beginning simultaneously at over 175 sites around the world in far-flung places like Zamia, Lebanon, South Korea and Germany. Combined, they comprise what organizers hope will be certified by Guinness World Records as the World's Largest Swimming Lesson.
Of the 69 participants at Cooke, most were kids who spent the night at the Youth Center next door, waking up not-yet-bright but certainly early for the 4 a.m. start time.
The event was meant to promote water safety. "It's important to know how to swim – save your own life or save someone else's life," said lifeguard Kaleo Crivello, who helped organized the lesson at Cooke.
During the 45 minute lesson, participants practiced pool safety, floating, rhythmic breathing, kicking and the freestyle stroke — "the basis of swimming," Crivello said.
The safety lesson made an impact on some kids. "I learned that you can use a plastic bottle to help pull somebody to shore," said 11-year-old Tadeu Lima.
Others simply enjoyed the time spent in the pool. Kawai Naki, age 12, said his favorite part was the kicking "because everybody was splashing and it looked like a waterfall."
The number of participants worldwide won't be known until later this week when organizers at Cooke and other sites send registration forms and video recordings of their lesson to Guinness World Records, which will review the material and establish the record.
But the title was not the primary goal of the event – it was meant to teach kids life-saving skills.
According to event organizers, drowning is the second leading cause of accidental death of children 1-14 years old, and research shows that if a child doesn't learn to swim by third grade, they will likely never learn.
Crivello said he hopes more kids sign up for lessons as a result of the event. Cooke's free Learn to Swim summer lessons are June 14 to July 15 for kids three years old and up. Call 553-5819 for more information or to register.