Reading Program Makes a Difference in Mana'e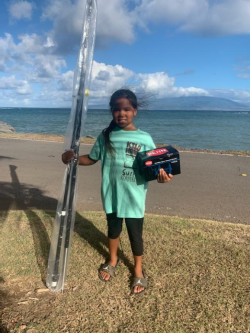 By Marina Lafaele
During this pandemic, we can all agree that COVID-19 has taken a toll on our state, our community and mainly our keiki who are still adjusting to numerous changes. Some of those changes are hard to adjust to, but with help from a dedicated teacher and inspiring advocate, Cynthia Luafalemana, the best is yet to come.
Mrs. Luafalemana's efforts align with the collaboration of Gary O. Galiher Foundation and Kilohana Elementary School to preserve the Kilohana Surf Reader Program. This innovative program has been dedicated to the Kilohana Elementary School pre-K to sixth grade students for over 20 years. Students can dive into literature that they can relate to, especially literature that support their Aloha ʻAina mentality that our beautiful island is built on. Students are learning more about how to surf, fish, hunt, and plant, which shows that students are following the program's motto, "Surf on the waves of knowledge."
In May 2020, the Kilohana Surf Reader Program generously opened its doors to children that live in the Mana'e community (Kamalo Bridge to Halawa) and to siblings of Kilohana Elementary School students (18 years old and under) for the first time ever. Just another positive outreach to help keiki explore their horizons while being confined during these hard times.
The Kilohana Surf Reader Program is motivated to get keiki reading so they can become lifelong readers, that they have designed a reward system to spark the interest of all participants. The guidelines to be a part of this program is simple: read a book.
Read one book = earn a T-shirt. Read more books = bigger rewards (up to three prizes for each participate). Prizes include boogie boards, fishing poles, goggles, coolers, hydro flasks, camping tent, hats, stickers, beach chairs, rakes, shovels, gardening starter kits, fins, tabis, grills and gift certificates, just to name a few.
The Kilohana Surf Reader Program is truly blessed to support our local Molokai stores during these tough times. Mahalo to Ace Hardware, Something for Everybody/Wailani Tanaka, Hawaii's Finest, and Kamoi Snack-n-Go. Special mahalo to Take's Variety Store/Garrick for donating this year's grand prize, an Ulua pole and reel to our winner Kalena Luafalemana-Haney. She read a total of more than 74 books, some of which were in 'Olelo Hawaii.
Mahalo to all 120 keiki who participated in this year's Kilohana Surf Reader Program and to their ohana for supporting their efforts.
Let us continue to support, inspire and motivate our future generation, as they are the leaders of tomorrow. They will be the ones to explore the unlimited opportunities, make a difference in an unknown world, but will always remain Molokai rooted. "The more you read, the more things you know. The more that you learn, the more places you'll go."- Dr. Seuss.