Ranch Pays Big
Some of the desolate-looking grounds and empty swimming pool at Kaluakoi's old hotel will be brought back to life in the near future thanks to a recent court ruling against Molokai Ranch.

Last month, an arbitration hearing forced Molokai Properties Limited (MPL) to reopen the abandoned pool at the site of the Kaluakoi Hotel and pay $75,000 in punitive damage to the West Molokai Resort Association of Apartment Owners (AOAO).

The hotel, owned by MPL, stopped maintaining the grounds in late 2008 and officially shut down the pool in December 2008. However, a cross easement with the AOAO that dates back to 1976 requires the hotel's owner to maintain common areas as long as they own the property – even if the hotel is no longer in operation. Retired Judge Patrick Yim, who served as arbitrator in the case, said MPL's failure to do so was, "intentional, knowing, egregious and malicious."

When the Kaluakoi area was first being developed in the 1970s, the Kepuhi Partnership purchased to adjacent plots of land – one to build condominiums and the other for what became the Kaluakoi Hotel.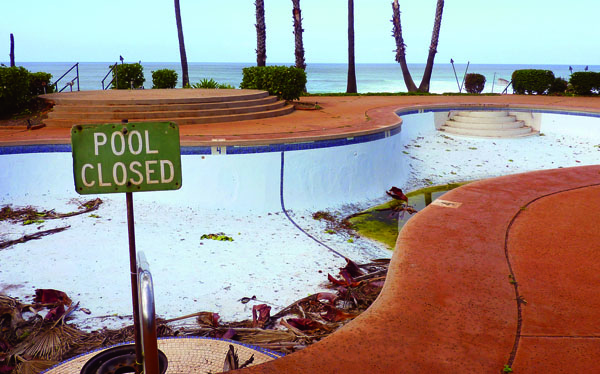 Kepuhi Partnership created a cross easement declaration that outlined "common areas" that were available to patrons of both lots. According to the easement, those spaces include, "all parking areas, roads, walkways, landscaped areas… and the swimming pool." The easement explained that the cost of maintenance for those areas was to be split, but the actual work was the responsibility of the hotel lot's owner.

The AOAO, with the help of Honolulu attorney Terry Revere, filed a complaint with the Second Circuit Court on Feb. 17, 2009 – roughly two months after MPL shut down the pool. Both groups decided to settle the matter in arbitration and a final decision was reached on Dec. 24.

MPL claimed it was not their choice to shut down the pool and reopening it would be legally impossible. However, Yim's report denied both of these defenses and also stated that MPL failed to provide evidence to back up their counterclaim that AOAO actually owed them thousands of dollars in maintenance fees.

The AOAO also requested an unstated amount of money to reimburse unit owners for possible renters they had lost due to the pool being closed and other poor maintenance. Yim denied that claim saying there was no way to tell how much business was actually lost because of MPL's failure to uphold its obligations.

AOAO President Jeff Kent, his attorney Terry Revere, MPL General Manager Daniel Orodenker and his attorney Andrew Beaman were all contacted for comment, but none returned phone calls.

Residents in the Kaluakoi area did say crews began cleaning the pool and landscaping walkways earlier this week, but could not verify that they were working for MPL.