Raiatea's Sea of Love Tour Makes Waves on Molokai
Paddlers' Inn was full of excited fans, eager to see Molokai's own Raiatea Helm, perform last Friday night after four years away from the island. The two-time Grammy nominee and international star performed her 2013 Sea of Love Tour in a sold-out show with more than 250 people in attendance.
Lori Lei Rawlins-Crivello of Rawlins Chevron handles ticket sales for most major events on the island and was impressed with the show's success.
"It was the fastest by far of any concert we have sold," said Rawlins. "There has been nothing like this. We completely sold out, no tickets at the door."
She noted that many of those who purchased tickets have been devoted Raiatea followers for years, adding that a number of people arrived more than five hours early to claim prime seats for the occasion.
For those lucky enough to nab tickets before they sold out, the concert was a majestic experience. Paddler's Inn was transformed to accommodate an influx of diners for a 6 p.m. dinner service that preceded the show. Tables draped in red ran the length of the Lanai as ruby red twinkle lights hung from the ceiling.
As expected, Helm delivered an elegant performance featuring music from her most recent CD as well as many crowd favorites. She was accompanied onstage by her father, Zach Helm, and local band Hawaiian Prime Time. Many of Helm's family and friends were also in attendance to give their support.
Henrietta Helm, mother of the artist, was obviously proud of her daughter's accomplishments.
"You never dream your child would become this famous," she said after a moment of thought. "You just raise them to be good citizens of Earth."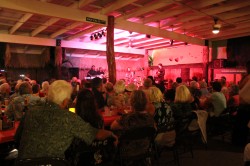 Helm has played professionally for over 10 years and has released four CDs and one DVD. She was recently awarded a $20, 000 fellowship by the Native Arts and Cultures Foundation of Vancouver, Washington. Helm plans to use the grant to start a non-profit foundation dedicated to promoting traditional Hawaiian music. She hopes to perpetuate the history of Hawaiian music by providing scholarships, educational material and music camps.
For those who missed out on Friday's big show, a special concert is being planned for May as a fundraiser for the Molokai Cancer Fund.