Rachel Kaleiokalani Keffer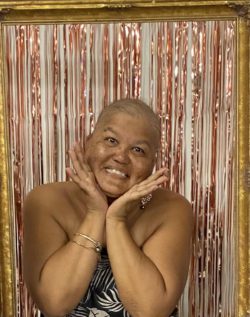 We rejoice through our sadness as we announce the passing of Rachel Kaleiokalani Keffer (Calunod) on April 29, 2023. Youngest of four siblings, Rachel and her twin Raquel were born on June 3, 1971 to Peter and Shirley Calunod. Throughout Rachel's grueling battle with colon cancer, she lived every day with unwavering faith. In the end, Rachel received the ultimate healing as she was welcomed into the kingdom of Heaven in the warm embrace of God and the love of her life, Albert Napahi Dizon III.
Rachel is survived by her mother Shirley, older sister Yvette Erece, older brother Peter Jr, and twin sister Raquel Cabalar. Rachel leaves behind her daughter Yolanda-Ann Uilani Dizon (16) son Albert Napahi Kaleimoku Dizon IV (15) and her fur-baby Victory. Rachel was also loved and cared for by her niece and nephews Desirae Cabalar-Mendija, Kelson Cabalar, Kapono Cabalar and Kekai Cabalar.
Family and friends will gather at the Molokai Community Health Center this Saturday, June 17, 2023. Family visitation will begin at 8 a.m., public visitation at 9 a.m. and service at 10 a.m. Lunch will follow.