Quakes Shake Up Molokai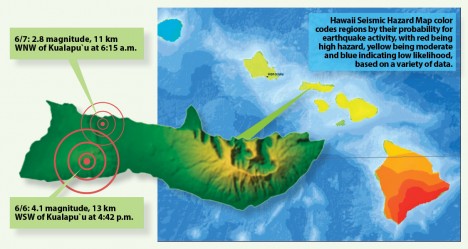 Molokai residents experienced a shake-down last Friday, when a 4.1 magnitude earthquake originating about eight miles west-southwest of Kualapu`u was felt around the island at 4:42 p.m.
The U.S. Geological Survey (USGS) Earthquake Hazards Program rates the perceived shaking of earthquakes on a "ShakeMap" system, and on a scale of 1 to 10, this earthquake was listed as a six, or "strong."
"The ceiling track lights broke and fell on me and the kids," Molokai Dispatch Facebook fan Nichol Helm Kahale of Kualapu`u wrote on the page.
Around the island, residents shared their reactions, noting the quake's intensity.
Renee Beihl of Kawela wrote, "[It] rattled my windows and my little computer desk wobbled for four to five seconds," while Ilima Davis in Kalae reported that her house shook.
Even residents of West Maui and parts of Oahu shared the shakes.
No threat of a tsunami resulted from the tremor, according to the Pacific Tsunami Warning Center, nor were any major damages reported.
Originally reported by the USGS at a magnitude of 3.8 off the north shore of Molokai, the quake was one of five with magnitudes greater than four in the last 25 years north of Molokai, Hawaii News Now reported. According to the USGS, the quakes are likely resulting from the Earth's crust and mantle adjusting to the weight of the islands on top of it.
A smaller tremor of 2.8 magnitude originating about 7 miles west northwest of Kualapu`u was also felt by some the following morning at 6:15 a.m.
Historically and geologically, the largest and most frequent earthquakes in the state occur on Hawaii Island near active volcanoes. Since 1868, approximately 29 quakes of magnitude six or greater have occurred on Hawaii Island, while seven such magnitude events have occurred northwest of Hawaii from the Maui area to Molokai, according to a 1998 USGS study.
The largest earthquake recorded in Hawaii was in 1868 with a magnitude of 7.9 in the Ka`u District of Hawaii Island. It caused 77 deaths — 46 from a resulting tsunami and 31 from landslides, according to the USGS.
While most historically significant earthquakes have been in Hawaii Island, one near Lanai in 1871, magnitude 6.8, caused severe damage on Lanai, Molokai and Maui.
"On Molokai, in the Pukoo area, the earth opened for a distance of several meters; stone houses in the area cracked in every direction. A 1.5-meter-deep hole opened in the ground at Pukoo," according to USGS records, also noting significant damage at Kalauaaha.
Hundreds of small earthquakes are reported in Hawaii every year. In the last seven days alone, for example, the USGS has recorded 53 earthquakes in the state, ranging from 0.4 to 4.1 magnitude, with all except three on Hawaii Island.