Putting a Stop to Domestic Violence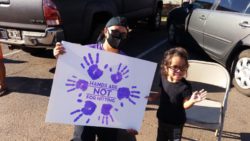 By Catherine Cluett Pactol
October is Domestic Violence Awareness Month, and since the pandemic began, the number of incidents in Hawaii has been on the rise, especially among Native Hawaiian populations. Molokai Community Service Council will be holding sign-wavings this month.
"We will be sign-waving each Friday to remind our community that no one should hurt the ones they love," said Karen Holt of MCSC.
According to the Secretary General of the United Nations, a global increase in incidents of domestic and intimate partner violence is one consequence of the COVID-19 pandemic stay-at-home mandates. The Domestic Violence Action Center's (DVAC) Helpline, which serves Hawaii, reported a 46 percent increase in contacts, from late March to October 2, 2020.
But even before the pandemic, studies have shown Native Hawaiians reported high rates of intimate partner violence compared to non-Hawaiians and the total Hawaii population. This is similar to rates seen in other Indigenous and marginalized peoples, according to a study published in 2020 by the Office of Hawaiian Affairs, Lili'uokalani Trust and Kamehameha School in collaboration with the Domestic Violence Action Center on Oahu. The study noted that 13.4 percent of Native Hawaiian adults report experiencing physical or sexual abuse by an intimate partner, compared to 10.2 percent non-Hawaiian adults and 10.6 percent of the total State of Hawaii adult population.
Domestic Violence Awareness Month was established in Hawaii in 2016.
"…By observing Domestic Violence Awareness Month, the Hawaii State Coalition Against Domestic Violence seeks to educate the public on the incidence of intimate partner violence in Hawaii's communities, and strives to assist the victims of domestic violence and their children who have suffered emotional and physical abuse," states the governor's 2016 proclamation.
"Domestic Violence Awareness Month is the opportunity that we seize to help the community deepen their understanding about the complexity of the problem and the enormity of the problem and the ways that people can engage… with people that they might have in their families or neighborhoods… that might need help, and a way for us to collectively as a community focus attention on the serious problem that exists," Nanci Kreidman, CEO of the Domestic Violence Action Center, shared on KHON2 last year.
If you or someone you know is experiencing domestic violence on Molokai, call the local 24/7 domestic violence hotline at 808-567-6888.