Put to the Test
Local teacher competes in Ironman race
As a teacher at Molokai High School, Rodney Nelson lectures on algebra, geometry and physics without breaking a sweat.
But last month, competing in the Ironman triathlon in Tempe, Arizona, he faced a daunting equation: swim 2.4 miles, bike 112 miles and run 26.2 miles.

When he finally crossed the finish line 15 hours, 46 minutes later, Nelson, 27, said he felt delirious.
"I felt proud, happy, accomplished… I felt like I had done what I'd set out to do," he said.
Nelson set the goal to complete in the ultimate triathlon four years ago.
"Everyone has to measure themselves as least once," he said. "This is how I chose to measure myself."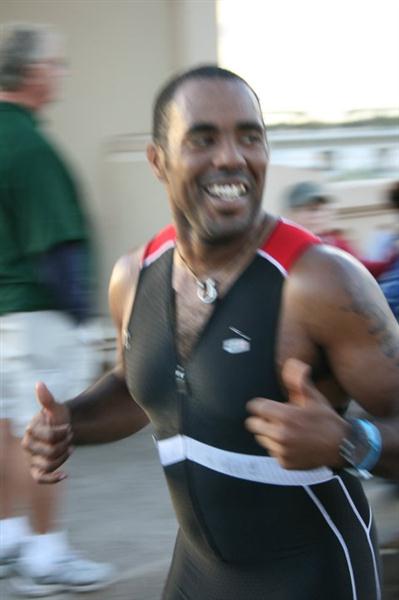 After competing in shorter triathlons, including a half Ironman in Kona two years ago, he started training nine months ago, riding his bike from Kaunakakai to Rock Point, and later out to Pu`u O Hoku, and running from town to the high school once a week.
His training regiment was disrupted when Cooke Memorial Pool closed for repairs in October, forcing him to swim laps in Dixie Maru where he was conscious of the possibility of running into shark.
"Swimming at Dixie was like walking through the jungle," he said.
Cheering him on along the race were his father, mother, sister, brother, sister-in-law and cousin, who flew out from New York state.
Next for Nelson is the half marathon on Maui in January. As for another Ironman race, Nelson said he's not ruling it out.
"If I have the time to train for it and be exhausted all the time again, I'll do it."

Rodney Nelson would like to thank his friend and family for their support, biking buddy Will Carlson, all the people who looked out for the "crazy man running in the night" and God.