Pumpkin Pickin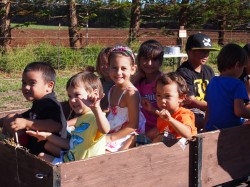 For the past five years, Molokai residents have had the chance to celebrate the autumn tradition of pumpkin picking thanks to the efforts of Heart of Aloha Church. The pumpkin patch in Kualapu`u, tended by church members throughout the summer, was filled families picking out their favorite bright, orange prize last Saturday. The Pick a Pumpkin Day also featured a wagon ride for keiki (pictured here), food for sale and free kids shoes being given away.
Church member Linda Ching said she brought the idea to Heart of Aloha after seeing families on Oahu picking pumpkins and wanting to bring a similar opportunity to Molokai.
"It started with the thought of blessing kids on the island who wouldn't get a chance to pick a pumpkin otherwise," said Ching. She added that although the pumpkins were smaller in size compared to the giants of previous years, the event has continued to grow each year.