Prohibition Hits Molokai
Youth raise awareness about underage drinking.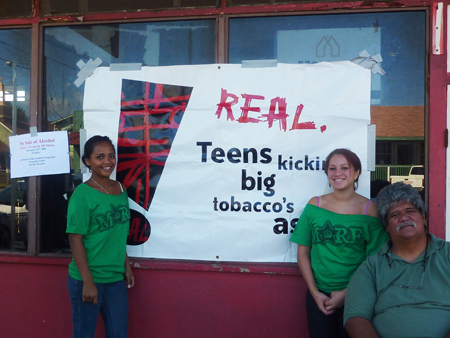 From left to right, 10th graders Kendra Hubin and Caitlyn Albino and volunteer leader Wayde Lee stand up to big alcohol companies outside of Friendly Market Friday morning. All three are members of Hui Ho`okupono, a youth group that convinced seven Molokai stores to stop sales of alcohol for one morning last week.
The students set up booths and handed out flyers outside the venders' doors to raise awareness about underage drinking and the large alcohol companies that target teens in their advertising.
"When we looked into it, we noticed that most advertisements for alcohol are about three and a half feet off the ground, right at the level for young kids to see," Hubin said.
Hui Ho`okupono teamed up with the Hawaii Partnership to Prevent Underage Drinking (HPPUD) and REAL – Hawaii's first youth group against tobacco use – to educate teens about breaking bad habits and the adults who sometimes support those habits.

"I realized that I really don't need alcohol," Albino said. "Teen drinking is only going to cause drama or bad accidents or fights – only negative stuff."
Lee said there were 12 kids that showed up at 5:30 a.m. Friday morning to spread the work and roughly 20 high-schoolers worked on the project. To learn more about how to stop underage drinking visit MoreThanYouThink.org.