Produce Distributed to Residents in Need
Molokai Chamber of Commerce News Release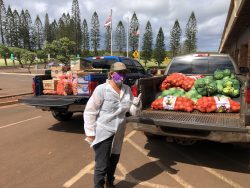 On Friday, April 10, with generous financial donations from our business community, the Support Molokai Initiative was able to purchase produce from Valley Isle Produce and have it flown on Mokulele Airlines and Kamaka Air to Molokai. It will be distributed to our kupuna and needy families by the Molokai Homestead Farmers Alliance and community volunteers.
The Support Molokai Initiative is a partnership between the Molokai Chamber of Commerce, Representative Lynn DeCoite, Molokai Community Federal Credit Union, Molokai Homestead Farmers Alliance, Molokai Farm Bureau, Bayer Hawaii and other volunteers to help our community through the COVID-19 pandemic with various relief efforts.
"Right now is the time we're coming together as a community," said Representative Lynn DeCoite. "We're very grateful for the support and resources we're getting on Molokai and our sister islands who truly understand our time of need. I can not thank them enough from the bottom of our hearts."
This continued partnership between our local and neighbor island business communities and volunteers, along with the state and county governments is what it's going to take to help our island community get through this.
"We're grateful for Lynn and our business community's leadership during these trying times," said Molokai Chamber President Rob Stephenson. "We're all going through hard times and although we can't reach everyone, we're doing our very best to help where we can. This is just one of the Support Molokai Initiative efforts we're working on, there are more on the way."
Many thanks to Bayer Hawaii for moving quickly to get this food transaction going and delivering it to the Maui airport. Also to Mokulele Airlines and Kamaka Air for providing the free shipping, and to everyone at the Maui airport commuter terminal for their help in getting it from the truck to the plane, Mokulele Airlines, the Hawaii National Guard, and all the folks on the ground at the Molokai Airport for making it a smooth transition from Maui to Molokai.
DeCoite added, "I also want to thank my husband Russell, my kids RJ, Dillon and Carrie, and Kui and Manu Adolpho for helping all of us behind the scenes. And many thanks as well to Rosie Davis, Faith Tuipulotu, Dawn Bicoy, Wendi-Liz Tancayo and Chris Mebille for their help in organizing and distributing this fresh produce to our community — and thanks for the guys with boots on the ground. If we forgot anyone we apologize, but we're doing the best we can."