Prisca Daniel Bicoy Medeiros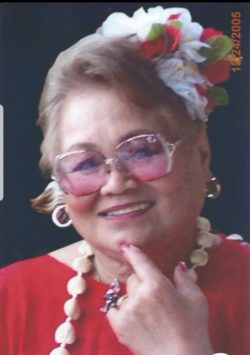 Prisca Daniel Bicoy Medeiros
March 29, 1928 to April 2, 2020
I was born in Pu'uhoku in 1928, where my grass roots began. I am the 4th child amongst 12 children of Petronilo and Paula Bicoy. I still remember the good old days when everything did not cost so much. This card from my daughter, Nat, brought back memories of yesteryears. I had a wonderful child's life, with all my four sisters and seven brothers. We had a loving home with God as our head of our family. I got married in 1946 and have a beautiful family of my own. I can only thank God for my life. 1928, I think, was a fine year to come into the world. Again I have God to thank for all that has come about in my life; my successes, also some failures, but all in all I'm grateful for my good parents and for my own good and beautiful family of five girls and one son. God has been good to me and guided me in all my endeavors. Though there were some perilous times, I think God has taken my fears away, maybe because I surrender my total being in His care ever since I can remember. I became a writer, a teacher of religion, an artist, a nurse, and a cosmetologist. I know deep in my heart I couldn't possibly make this journey without God's help. How I love him so, my Lord and Savior.
-Prisca D. Medeiros, in note found in a card from 2007
Prisca D. Medeiros married Joseph Patro Medeiros, Jr. (deceased) in 1946. They had six children, Nathalie (Ralph Wilson), Edwin (Diane Smaha), Paula (Dennis Anderson), Jaclyn, deceased (Tim Moran), Tess (Ted Washington) and Choppie (Jerome Kalama). They have 14 grandchildren, 40 great grandchildren, and 15 great great grandchildren.
The family moved from Hawaii to the California Bay Area in 1957. There are some interesting stories about those times but the constant in our lives were Mom, Dad and God. Our parents were both vested in their relationship with God and their greatest wish for their children was to also have that gift. Mom was the glue that held our family together and she raised her girls to believe that they could do anything they wanted while still maintaining a family and home. She taught her son to respect women and to value them as human beings. They made several attempts to move back to Hawaii but were always drawn back to California by their family and their great love for their grandchildren and great grandchildren. Finally, Dad's ill health caused them to move to Hawaii permanently. After Dad's death in 1999, Mom settled in Maunaloa and spent her time doing church activities and going holoholo with her friends until her age caught up with her body. A bout of pneumonia finally put her out of commission and she could no longer live alone. She passed away on April 2, 2020, in California of a cerebral aneurysm with two of her daughters at her side. COVID prevented her other children from being there.
Of her 11 siblings she is survived by her two younger sisters, Kani (Adrian, formerly married to Daniel) and Lori (Lawrence, deceased, formerly married to Jessie).
Preceding her to heaven were siblings Bernaldo "Bernie," Stanley, Joseph, Josephine "Jojo," Francisco "Franco," Frederico "Fred," Fauso "Puncho," Jill and Jack.
Services will be held on April 8, 2022 at Saint Damien Catholic Church, Kaunakakai. Visitation at 9:30 a.m., Rosary at 10 a.m., Eulogy at 10:30 a.m., Mass at 11 a.m. Light refreshments after mass. Burial will be private.