Prince Kuhio Day
Homesteaders and Molokai residents celebrated Prince Jonah Kuhio Kalanianaole's birthday Saturday on the island where his Hawaiian Homes Commission Act was first put into practice.
"If it weren't for the success of homesteads on Molokai, the [Hawaiian homestead] program wouldn't still be around," event organizer Kammy Purdy said. Prince Kuhio's 132nd birthday was honored with food, music and a ho`okupu at the Lanikeha Community Center.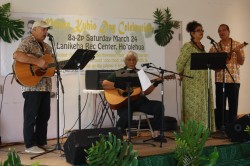 Prince Kuhio was next in line for the throne when the Hawaiian monarchy was overthrown in 1984. He later became a congressional delegate and championed for the rights of Native Hawaiians. His 1920 Hawaiian Homes Commission Act provided homelands for the people he represented.
Purdy is president of Ahapua`a o Molokai, which unites the island's homestead associations under one organization. She said the many homesteaders at the celebration would be homeless without Prince Kuhio's activism.
Homesteader Edwina Cacoulidis was at the event representing the Ho`olehua Hawaiian Civic Club, another Prince Kuhio legacy. She said in order to receive land through the Hawaiian Homes Commission Act, an applicant must be 50 percent Native Hawaiian and at least 18 years old. The applicant is then put on a waiting list to receive their homestead. For a family to transfer a homestead to someone, the recipient must be 25 percent Native Hawaiian.
Cacoulidis said the Prince Kuhio celebration had fewer participants than past years, probably because of the rainy weather, which also prevented many off-island vendors from showing up. Luckily the event was planned to be indoors, and those who came out enjoyed plate lunches, shopping, music and Bingo.
Small business specialist Jennifer Hawkins was there to spread the word that the Kuha`o Business Center is opened and offering workshops again, and Nani Kawa`a of the Native Hawaiian Library provided information about services the library has available, including research, books, genealogy and language information.
Prince Kuhio's birthday was observed as a state holiday Tuesday and was celebrated throughout the islands with parades and festivals.