Priceless Healthcare
Four-year-old Zooey Akutagawa stepped up to the scale to be weighed and measured. Around her were Molokai residents of all ages and backgrounds, receiving healthcare from military medical personnel. It was all part of program called Tropic Care, which brought free medical services to Maui County as part of a rapid deployment exercise.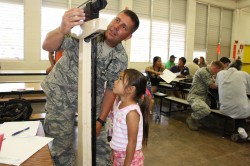 "They have this down to a tee," said Maui County Mayor Alan Arakawa, who was at Kaunakakai Elementary School on June 7 for the opening of the four-day operation on Molokai. Residents were lined up outside the door to receive free health, dental and vision aid. As of Saturday, the health professionals had already provided 280 individual services on Molokai.
Arakawa said that service men and women would normally come and do mock scenarios with actors pretending to be ill. Tropic Care allowed military personnel to gain practical experience while serving the community.
Ken Gonzales, public health nurse on Molokai, said this allowed keiki like Zooey along with the island's kupuna to receive services at no charge and learn about the options for continuing regular healthcare.
"If today Aunty was told, 'You have diabetes,' we at least know that there are services on the island to help her from here," Gonzales said.
Arakawa said it took two and a half months to prepare the clinics, which took place across the county and on Hawaii Island. Maui County Health Officer Lorrin Pang said the federal, state and county governments took on the event so the community could reap the benefits.
"This opportunity will allow the Department of Health to save thousands of dollars and collect substantial and important data to map the landscape of Maui County's health status," Pang said.