Preserving the Land: Kawaikapu Blessed
Molokai Land Trust News Release
The Moloka`i Land Trust (MLT), adjacent neighbors, and guest dignitaries participated on Saturday, April 3, 2010 at the Kawaikapu Preserve land blessing to launch the preserve's future as a conservation and cultural preserve.
The blessing, conducted by Pastor Cappy Caparida, honored Auntie Marie Place, Pookela, Molokai Laau Lapau and daughter of "Bamboo " Davis, who is one of the oldest kupuna in the Kawaikapu-Kainalu Ahupuaa. William "Billy" Akutagawa spoke of Kawaikapu's historical ownership and significance. Kawaikapu's name literally translations to "the sacred waters" and is the birthplace of Chief Abner Paki, the grandson of High Chief Kamehameha Nui Ai Luau and the biological father of Bernice Pauahi Bishop. In subsequent years, the area provided homes for displaced residents of the Kalaupapa Peninsula who were forced to move because the newly created Hansen's disease settlement. Ranching began in the 1850s and continued into the 20th century. Today the 196.4-acre Kawaikapu Preseve will be protected from future development and all historic and cultural sites will be protected and significant biological and ecological resources will be sustained for culture and future spiritual, cultural, and subsistence users.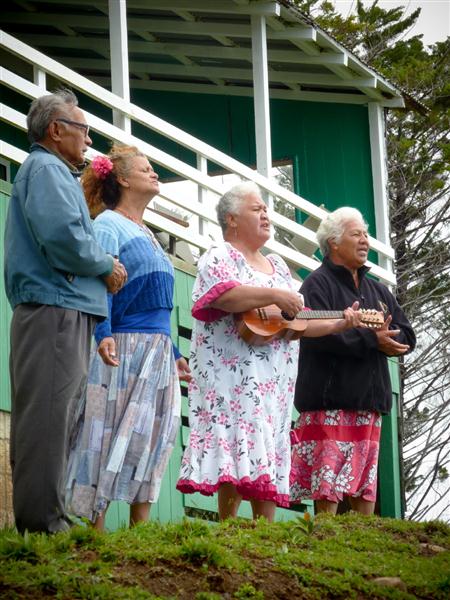 Maui County Council Chair, Danny Mateo, spoke about the purchase of Kawaikapu, which started in 2004 and was finalized in December 2009, as an example of fortitude, commitment, and partnership among many government and community groups such as Maui County; State of Hawaii Legacy Lands Commission; State Department of Land and Natural Resources: State Historic Preservation Division; the landowner, Greg Gordon; Kawaikapu Community Advisory Committee; Ke Aupuni Lokahi, Inc; and MLT. "Tough challenges are worth it when you see the end result. Kawaikapu is the beginning of preserving and protecting the land for its people and a legacy for today and future generations," said Mateo.
Abbey Mayer, former executive director of Ke Aupuni Lokahi, said, "Kawaikapu represents an opportunity to re-establish the extensive loi system in the watershed property, nurture the native plants used for cultural purposes, manage subsistence gathering, and protect the native forest. The work begins now for the community to re-establish a cultural and spiritual connection to the land," said Mayer.
The mission of the Moloka`i Land Trust is to protect and restore the land, natural and cultural resources of Moloka`i, and to perpetuate the unique Native Hawaiian traditions and character of the islands for the benefit of the future generations of all Moloka`i, particularly Native Hawaiians.