Preschool Travels for Keiki
Every Monday and Wednesday morning, the Mitchell Pauole Center is transformed into an area of learning and discovery as caregivers bring their keiki to Tutu and Me Traveling Preschool.
"It's fun for me and it's fun for them," said Jerrilu Heen, who brings her granddaughter, Alai Miguel, to the free program. "Over here there are no distractions. We're here and we're focused on playing together."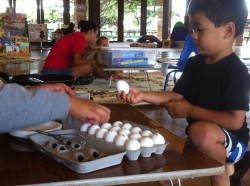 That's the idea behind Tutu and Me, a free program dedicated to the development of keiki. Head teacher Kanoe Paleka said the caregivers – often grandparents – bring children as old as 5 to interact over games, songs, stories and playtime.
The three Molokai Tutu and Me teachers alternate between two sites each week. Monday and Wednesday they are at Mitchell Pauole Center; Tuesday and Thursday they are at Kualapu`u Community Center.
There are Tutu and Me teams across Hawaii, each one serving two sites just like the Molokai teachers do. The statewide program operates under the Partners in Development Foundation and is federally funded by a Native Hawaiian Education grant from the Department of Education.
The preschool operates from 8:30 to 10:30 a.m., but it is a full day of work for the teaching team. They meet at their office in Lanikeha Community Center before heading to their site and setting up the activities for the keiki. After preschool, they return to the office, where they spend the rest of the day preparing activities, cleaning and replenishing materials, and recording enrolment and progress.
Mele Hooper, Tutu and Me site manager, said the children may only be at the preschool for a couple hours twice a week, but their hope is that the caregivers will carry the activities and values home with them.
"We want to share our resources and tools with the caregiver," she said. "There's a curriculum based on Native Hawaiian values."
The value of kokua, or helping, was the theme for April. Peleka said the 20 activities, which include everything from art to cooking to reading, don't change much from week to week, but the goals do. There is information at each station to help the caregiver provide the child with the best learning opportunity.
"Sometimes we have to remind the parents to let the keiki do the activity," Paleka said, noting how caregivers often want to have a nice finished product instead of having the child fully experience the activity. "It's the process, not the product."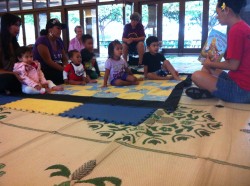 Heen and Miguel played with dinosaur figurines and made eggs out of clay while teaching assistant Shalei Borden-Phillips helped keiki prepare scrambled eggs.
Peleka said the teachers also serve as resources, providing information on development, such as potty training or encouraging sharing habits. They also provide referrals if they see any development delays in their assessment of a child.
"Kindergartens and preschools said they could tell who came through this program," Paleka said of the success of Tutu and Me. "They knew how to do circle time and the morning routine and how to interact with stories."
Hooper said the enrollment goal for each Tutu and Me site is 50 children. Between Molokai's two sites, there are a total of 52 enrolled. Peleka stressed that this is a free program and encouraged people to come check it out. One caregiver can bring up to three keiki.
"The community doesn't truly realize the importance of early childhood education," she said. "For people who do work, inquire with sitters or caregivers to come out."