Precarious Catwalk Stays Put
DLNR unable to secure funding.
Although a temporary catwalk has been erected at the Kaunakakai Wharf, a permanent replacement is no nearer completion than after its collapse over a year ago.
The Department of Land and Natural Resources (DLNR) was unable to get funding from the 2009 legislature, said Deborah Ward, information specialist for the DLNR.
"Until construction funding can be secured, we are not able to provide a construction start date for this project," she said in an email. They were looking to secure funding from the Federal Boating Access grant to pay for 75 percent of the project. The rest would come from state funding.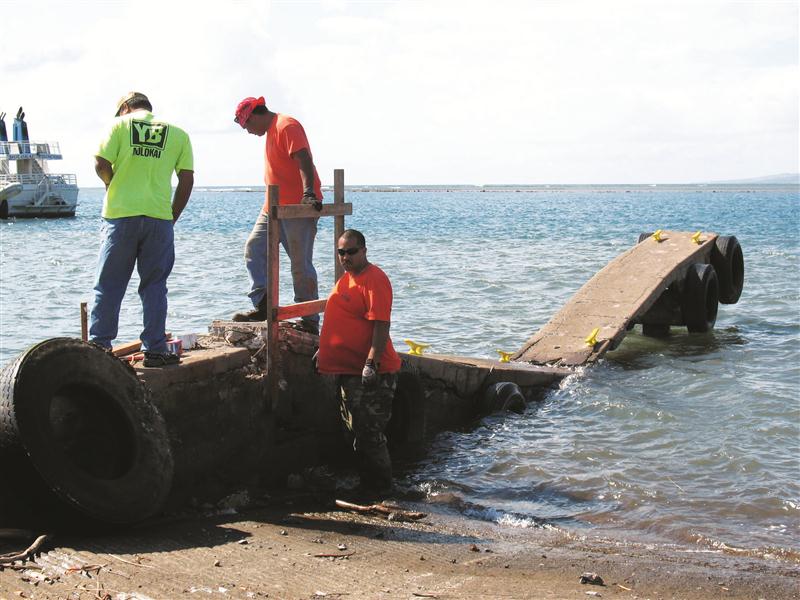 ," he said. Ching pays $200 a month to launch and operate his commercial boat in the harbor.
The former loading dock collapsed when the steel reinforcements in the concrete failed. Eric Yuasa, boating engineer for the DLNR, said corrosion of steel is common as seawater is able to infiltrate concrete.
The new dock will be made of aluminum framing and fiberglass decking, and will be wheelchair accessible. Yuasa said the new dock will be less costly, lighter and easier to repair. The Division of Boating and Ocean Recreation (DOBOR) has contracted Arnold Okubo and Associates, Inc. of Waipahu to prepare the dock when funding is available.
Despite the cost issue, boaters like Ching are frustrated about Molokai's predicament.
"A big factor we have that everybody is overlooking, is this is the one and only ramp of the whole island to serve the people of Molokai," he said.