Pili Pa`a
Molokai music series
Heartfelt harmonies, fast-paced strings, peppy bass lines and something you can't quite put your finger on? You're probably listening to Pili Pa`a. The four-man local band mix traditional Hawaiian sounds with modern, unusual flavors hinting of reggae, rock and even country. Made up of members George Aiwohi (bass), Justin Avalino (ukulele), Joshua Adachi (guitar) and his son Jeremy Adachi (drums), Pili Pa`a's friendly banter between songs will keep you laughing – if Joshua Adachi talks plans for a yard sale, be prepared for Aiwohi to ask how much his yard costs.
Three-fourths of Pili Pa`a talked story with the Dispatch last Tuesday between sets at Hotel Molokai, where they played songs about everything from surfing to women to food, and about places as close as Kalama`ula and as far away as Arkansas. (A plan for a song about Ranch Camp is on the way – they say they're joking, but we'll have to wait and see.)
The Molokai Dispatch (TMD): How long have you been playing together?
Joshua Adachi: We've been playing six or seven years. George and I used to play together, and we had group members interchanging. [A few years later] we put together a group to play a graduation party for Justin's family in Alaska, and it kind of evolved to different things. We're pretty versatile in our music.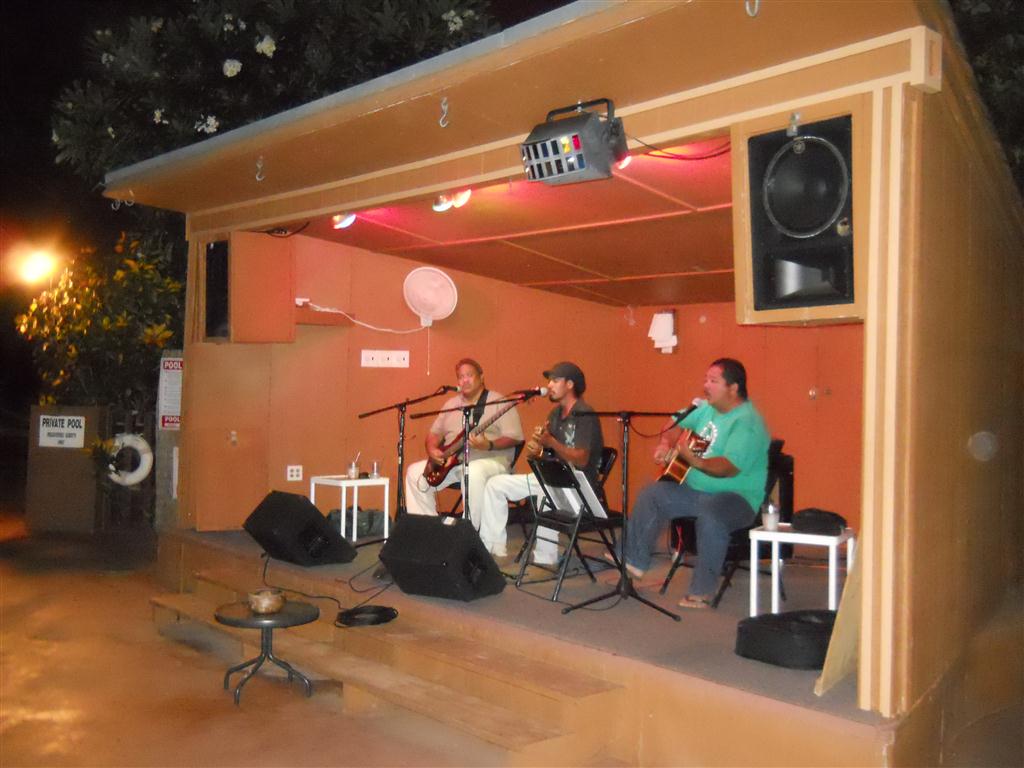 Avalino: We could record someday but it would have to be our Top 12 or something, and we should have six originals on the CD.
TMD: Anything else you wanna say about playing on Molokai?
Avalino: Molokai got plenty talent.
Aiwohi: You gotta be confident, but we have fun too. The most important thing is having fun. If not, no sense play.