Perpetuating Taro
Dripping with sweat and covered in a layer of red Molokai dirt, attendees of last Saturday's Taro Field Day still had smiles on their faces as they emerged from chest-high, heart-shaped leaves with arms full of taro plants they had harvested.
The annual event at the Molokai Applied Research and Demonstration Farm at UH Maui Community College Farm in Ho`olehua offers community members a chance to learn about the history, culture and preservation of taro through presentations, as well as taste test poi and kulolo made from various types of taro. Attendees can then venture into the field after receiving a labelled map to select and harvest plants of their favorite varieties.
"Kalo has aloha in its DNA," said one kupuna who wished to remain anonymous, bending over a bucket of carefully-cleaned huli, or the portion of taro harvested for replanting. "Kalo has a lot to teach us… it's our original ancestor."
He said he comes back to Taro Field Day every year for the same type of taro, a Japanese variety called Zu`ike. Unlike most kalo, the leaves of this variety can be eaten raw, he said.
"These are my grandchildren," said the kupuna, waving his hand over the line of tender, tall light green leafed plants. A few years ago, when the farm's plants of this variety began to die out, they called him and asked if they could dig up some of his Zu`ike. Now, the plants he harvested at the farm last Saturday were descendants of his stock, he said.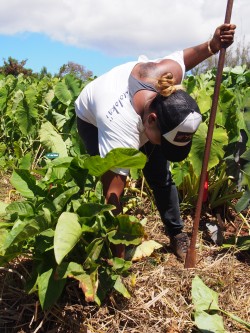 Faith Tuipulotu, who has worked at the UH Molokai Extension farm for 14 years, said that's one of the benefits of growing taro at the farm and connecting with farmers. Sometimes if one variety isn't thriving, they can contact those they know of who are growing the same type and share plants to better preserve the variety.
"There's an exchange between farmers and the [Molokai UH] extension, between extension and extension and between farmers and farmers," she said, adding efforts are also assisted by the state Taro Task Force. "Sometimes it's also word of mouth… farmers will say, 'Let's trade [varieties].'"
In the ancient days of Hawaii, each of the islands' estimated 500,000 people would eat one seven- to nine-pound kalo plant per day, according to Alton Arakaki, a Molokai extension agent with the University of Hawaii College Tropical Agriculture and Human Resources (CTAHR.) Ancient Hawaiians carefully selected more than 300 kalo varieties to ensure food security and successful growth in many environments. Today, only about 70 of those varieties still exist — and without vigilant cultivation, that number may dwindle.
"[I do this] to perpetuate my culture and take [the plants] home to create a cultural place for my children," said attendee Ka`uluna`e Hamakua, who said she came back this year to gather some varieties she didn't get to collect last year. She said she's appreciative of this opportunity to give Hawaiians a place to gather kalo to grow.
Ten-year-old Iokona Albino is also a repeat attendee of the event. He said when digging up his plants, he tried to take out the roots without damaging them. He selected his variety of choice after tasting the poi, he said.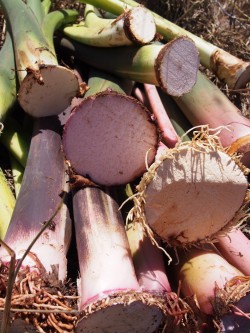 "I thought it was the best," he said, standing in the shade after carefully harvesting several plants.
For Tuipulotu, working to grow dozens of taro varieties isn't just about preserving those varieties for future generations, it's about providing food.
Historically, Arakaki said Native Hawaiians grew 100 percent of their own food, while today, we only grow about eight percent. Kalo represented a staple in the local diet.
Tuipulotu admits she didn't used to eat much poi. But she's now incorporated it into her diet regularly since she's been trying to eat more healthfully, she said.
Carbohydrates in the early Hawaiian diet, including taro, ulu (breadfruit) and `uala (sweet potato), are more easily digested and not broken down by the body into sugars as quickly as today's staple of white rice. Studies show that a diet high in these types of starchy staples can reduce high blood pressure, diabetes and obesity.
For more information on taro varieties, visit ctahr.hawaii.edu/oc/freepubs/pdf/B-084.pdf.