People With a Plan
Community plan starts to come together.
The need to maintain the island's unique cultural identity is as strong as the need for more jobs and a more diverse, stable economy in the eyes of Molokai residents.
"The time for change is now. One size does not fit all," said Molokai's county council representative, Danny Mateo.
Last Saturday, more than 40 people put their heads together to tackle the island's current issues as well as its goals. The workshop was held by the county to update the 2001 Molokai Community Plan.
Water and water use was one of the main topics of heated discussion. Many residents said how frustrated they were at the different agencies and organizations controlling the water – state, county, private companies – but not talking to each other.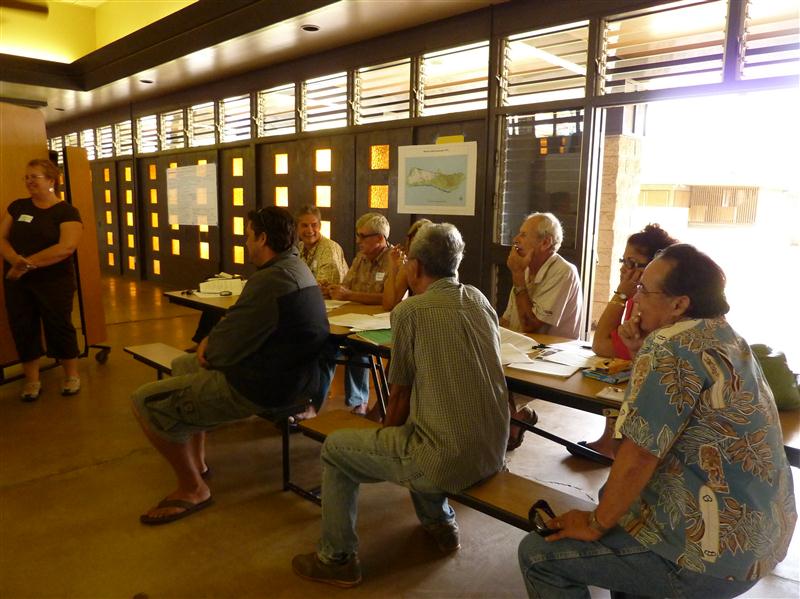 has been a war zone," Manera said of the island's economic ups and downs in the past several years. "There has to be some kind of development…you're not going to please everybody."
Want to get involved? The next workshop will be held on Saturday, Oct. 16, again at the Mitchell Pauole Center from 9 a.m. – 1p.m. Attendees will further discuss the strategies to put the plan into action.
Save the Date
Oct. 16 – Goals and Strategies workshop, MPC 9 a.m. – 1 p.m.
Oct.-Dec. – More community workshops
April 2011 – Submit a "study" (initial draft) of the plan to Community Plan Advisory Committee
April-October '11 – Committee makes recommendations, submits to MoPC
Oct. 2011-Oct. 2012 – Molokai Planning Commission makes recommendations, submits to Maui County Council
2012-2013 – Maui County Council votes yay or nay to approve plan