Penny Martin Given Friend of Youth Award
Community Contributed
By Ric Ornellas
The Hawaii State Teachers Association (HSTA) recognized Penny Martin's 25-plus years of volunteer teaching to Molokai students by awarding her with the Friend of Youth Award 2011 at their yearly convention on April 2 at the Sheraton Waikiki. This prestigious award, given annually since the 1980s from teachers state-wide, acknowledges a non-teacher who demonstrates excellence to teaching and learning within their local community. In her acceptance speech before 411 teacher delegates, Penny said, "I am surrounded by wonderful teachers on Molokai and I receive so much support from our community. If your teachers here are a reflection of our teachers on Molokai, then the children of Hawaii are very lucky." She is the first Molokai community leader to receive this award.
Jenifer Tsugi, Award Committee chairwoman, presented Penny with a kamani bowl and engraved plaque. Prior to Penny's award, she gave Gov. Abercrombie a lei on behalf of Molokai before his keynote speech to HSTA delegates. Penny's two sons, Kealiiaukai "Magic" and Conrad Martin also attended the award ceremony honoring their mother.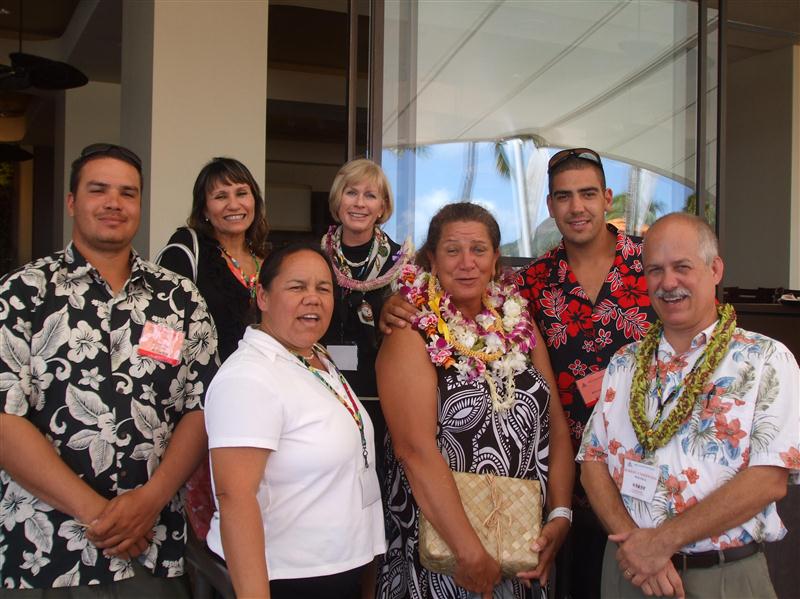 Penny's efforts to help youth are familiar to Molokai residents who see her trucking from school to school, east end to west end, sharing her mana`o with young leaders of the future. While Penny's primary work is for the AIDS Foundation, her volunteer work is without compensation and is grant funded through Papahana Kuaola. She visits all four public elementary schools, along with private Aka`ula School, providing keiki with engaging lessons and activities on Native Hawaiian culture. She coordinates with myriad teachers trying to infuse students' lives with an awareness of Hawaiian values and traditional care for the environment. Penny sees the youth as Molokai's future caretakers.
She attends class field trips voluntarily assisting students and teachers in their work with Hookuleana O Molokai, the Maui Digital Bus, the Alaka`ina Foundation and the Aloha Aina curriculum. Penny was a founding member of the Earth Day committee on Molokai and for years has spent countless hours in planning, organizing, and setting up booths.
Penny has assisted with science fairs at Kilohana Elementary School, and was the keynote speaker there (again without pay) when the then-fourth grade teacher was awarded Teacher of the Year, in large part, because of the science-based environmental projects they developed together. One of those students has followed directly in Penny's footsteps, and now, as a young adult, works with teachers implementing their curriculum.
Last year, Penny Martin volunteered at Aka`ula School for their annual PRISM (Proving Resolutions with Integrity for a Sustainable Molokai) conference. As keynote speaker, she urged students and parents to take care of the aina, suggested ways for families to focus on environmental issues and promoted sustainable practices with youth.