Penney Keolaokekua Galam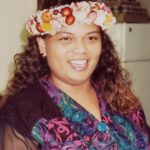 Penney Keolaokekua Galam, 48, of Kaunkakai, Molokai gained her angel wings peacefully at Queens Medical Center on Saturday, Sept. 25, 2021.
Keola, as she was known to her ohana and friends, was born on Aug. 2, 1973 at Maui Memorial Hospital to Doreen Mapuana (Keohuloa) Galam and Gordon Wayne Galam.
She is survived by her grandmother Esther; mother Doreen; brothers Gordon "Kili Boy" Galam, Cliffton Scott Galam and Ted James Galam; her children Kayla, Karlie, Kealiiokamalu Galam, Kaipo- Louis and Kaianne DeMello Galam; along with many ohana and friends. Keola is met by her father, grandparents, uncles, aunts and cousins in heaven.
Keola was a strong, humble, and resilient woman. She lived her life fearlessly and compassionately, a warrior of love and light for all those around her. She will be forever remembered as a true pillar of strength.