Partner in the Spotlight: Diane Pike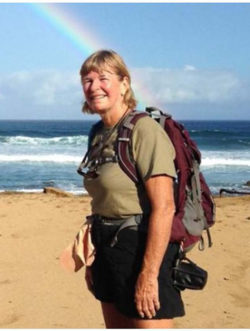 NOAA News Release
Molokai's Diane Pike stumbled into the Hawaiian monk seal world in 2008 when she volunteered to help locate a mom and pup pair that were spotted on Molokai during a NOAA aerial survey. Little did she know where that road would lead her! At that time, finding reproductive females giving birth across the main Hawaiian Islands was still a relative novelty.
Diane's involvement in monk seal conservation expanded alongside these promising signs of recovery in the species itself. Later that year, she facilitated NOAA's efforts to tag that pup, and in observing the process and learning about the important work happening in her backyard, she was hooked.
The following year, a monk seal pup, well-known as KP2, was found abandoned by his mother. Diane was part of a small team that stepped up to help monitor this seal after he was rehabilitated and released back into the wild on Molokai. They spent countless hours monitoring his increasingly habituated interactions with people at the Kaunakakai Wharf and conducting outreach with the community.
That knowledge has made Diane an invaluable asset to NOAA's scientific efforts ever since. Diane filled the role of marine mammal response coordinator on Molokai for many years, becoming the go-to monk seal person on Molokai for over a decade, an amazing asset to research and recovery efforts there. She has reliably responded to stranded seals, monitored injured and compromised individuals, helped to collect important health and stranding response data, assisted with numerous field research projects, done pup monitoring and tagging, and documented and retrieved carcasses for postmortem examinations. Her impressive contributions to monk seal population assessment data include recording thousands of sightings and engaging the local community in reporting them as well.
In 2019, Diane stepped in to assist at Kalaupapa National Historical Park during a period of significant staff transition, working hard to fill in gaps and bring new staff up to speed, all while assisting with monitoring and tagging a large cohort of pups born in the Park that year. Her work in the field and in engaging the community in Kalaupapa and island-wide, have contributed greatly to monk seal conservation. Diane's boots have logged countless miles hiking the rugged shorelines of Molokai to accomplish all this, and she has enriched the lives of those she encountered professionally and personally along the way.
Recently, Diane decided to step down from her role so that she could focus on family, community, and other things that are important to her. Diane's "retirement" from monk seal recovery work marks the end of an era, and she is leaving things far better than she found them.