Parishioners Mourn Loss of Kalaupapa Priest
Father Felix Vandebroek, pastor of St. Francis of Assisi Church in Kalaupapa, was found dead on Aug. 28 at the Sacred Hearts Center in Kaneohe. He was 82.
Originally from Belgium, Vandebroek served parishes in Hawaii for more than 50 years, and presided over the Hansen's disease settlement at Kalaupapa for the last three. He had recently returned to Hawaii after a month-long stay in Belgium, where he was visiting family.
While resting at the center before returning to Molokai, Vandebroek wasn't feeling well, said Father Chris Keahi, provincial superior of the Congregation of the Sacred Hearts of Jesus and Mary. Keahi knocked on Vandebroek's door the night before he was supposed to return to Molokai, but the priest did not respond. He was found dead the following morning.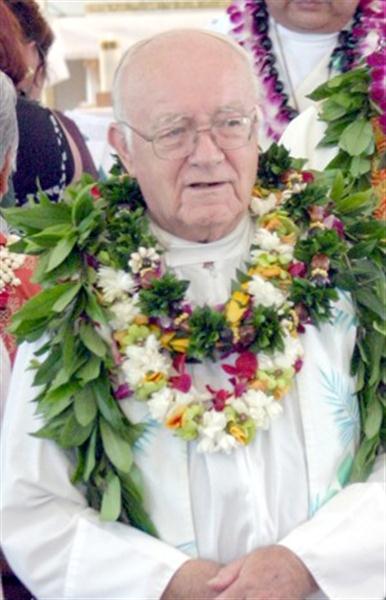 always nice to the people."
Willing to Serve
Vandebroek was born in Belgium on Feb. 29, 1928. He entered the Congregation of the Sacred Hearts in 1949, and later moved to the Hawaiian Isles in 1956. Vandebroek's ministry in Hawaii spanned across all islands except Lanai.
His longest assignment was at St. Raphael Church in Koloa, Kauai, for 24 years. He was later appointed to St. Francis of Assisi Church in Kalaupapa in 2007, and was formally installed by Bishop Larry Silva on May 10, 2008 – the feast day of St. Damien de Veuster. Vandebroek was the latest priest to follow in the footsteps of Damien, his fellow countryman, who was canonized in 2009 for his work with Hansen's disease patients.
Keahi said although Kalaupapa was one of the most challenging ministries to preside over, Vandebroek went willingly.
"It was a little high for him coming from Hana," Keahi said. "He lived somewhat of a lonely life, especially with no children. He loved children."
Keahi said Vandebroek enjoyed helping the isolated community, and recalled him being a "warming, friendly and caring" person.
As Leoda Shizuma, council chair of St. Damien Parish, shuffled through photos of Vandebroek on her phone, she, too, remembered him fondly.
"He really had a sense of humor," Shizuma said, as tears began to swell. "He had a connection with the local people."
Shizuma had last seen Vandebroek at Kalaupapa in May for St. Damien's feast day. She recalled his sermon, saying that when he spoke, she could feel the presence of Damien among them.
"He was so cute," she added. "At the end of every service he would say, 'Mass pau.'"
While Keahi has yet to find another priest for Kalaupapa, he said he would send volunteers over on a weekly basis in the meantime.
The funeral is Thursday at St. Patrick Church, 1124 7th Ave. in Kaimuki. Visitation is at 5:30 p.m., followed by Mass. The burial is set for Sept. 10 at 9 a.m. at the Valley of the Temples in Kaneohe.