Paper Making: An evening of creative family fun
Contributed By Koki Foster
Kualapu`u art resource teacher Ms. Koki Foster organized a papermaking workshop at the school on Dec. 2 attracting more than 50 participants. Families had the opportunity to express their creativity together and went home with multiple sheets of hand made paper.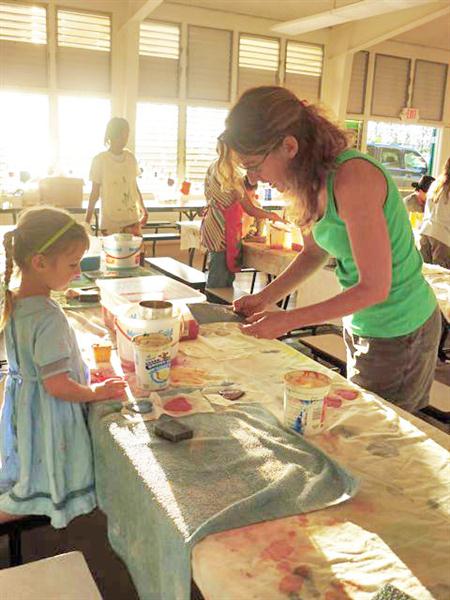 Did you know that making paper is easy and fun, and costs almost nothing? All the materials needed to make paper can be found at home. The paper made at Family Art Night was made from recycled scrap paper.
The paper we know today was invented China in about 705 A.D. by a man named Ts'ai Lun. He got the idea to make paper from observing wasps build their nests. He took the inner bark of a mulberry tree and bamboo fibers, mixed them with water, and pounded them with a wooden tool, then poured this mixture onto a piece cloth and let the water drain through, leaving only the fibers on the cloth. Once the fibers were dry, Ts'ai Lun discovered that he had created a lightweight, portable writing surface.

Principal Lydia Trinidad who helped prepare the colorful paper pulp, and made several sheets herself said she looking forward to the next papermaking workshop.

Kata Lee and her son Kai, were the super star volunteers of the evening, lending a hand from the beginning to the end.

The next Family Art Night will be held at Kualapu`u in the spring.