Papaya, Horses, Poop!
4-H Clovers Full Circle and Green project
Community Contributed
By Viola Mundrick-Wichman
The 4-H Clover Lopers are putting into action self-sufficiency and sustainability. How? By taking composted horse manure and using it as fertilizer in a field for organic papaya, and then using the ripened papaya as a natural dewormer and feeding it to their horses. Our sustainability project is generating income for club expenses and care of the horses.
Going green with our manure is the biggest benefit we can give back to the `aina and our fellow homesteaders. At the same time we will be able to employ Molokai workers to help with land prep, harvesting and processing of the manure and organic papaya and other produce. We utilize homestead farm land that is not currently being farmed.
Our project encourages and teaches sustainability for home use (fruit for family and friends, manure for your garden) and self-sufficiency through sale of surplus crops for added income for the club. We're teaching our keiki how a hobby can pay for itself and how that hobby can give back to the `aina. We are growing future ranchers, farmers, producers, land managers, etc. We had a lot of help in executing this program and now, a year later, we're actually selling organic papaya in partnership with Grant Schule of Kumu Farms.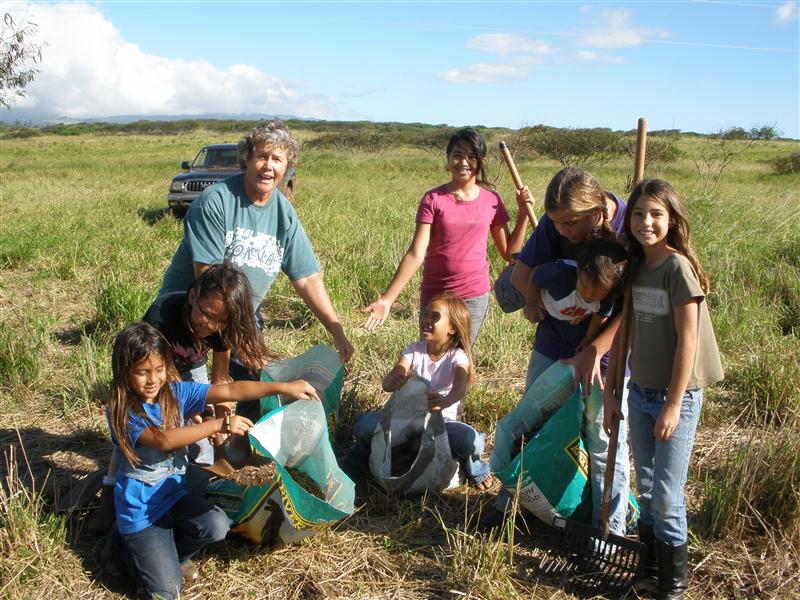 What Is 4H
4-H Clover Lopers is a 4-H Chartered Club by the national headquarters at the U.S. Department of Agriculture. Our organizer and club leader is Viola Mundrick-Wichman, with Donna Howard, Liz Price and Marshall Racine as project leaders; Louise Manley, Alicia Montemayor, Kelly Go, Chris McGuire, Christian Kaalekahi, and Meg Fox as parent volunteers. The diversity of our "management" team is quite unique in that we have a wealth of knowledge to draw from – farmers, educators, nurses, business entrepreneurs and mothers.
Our club is unique in that we are the only 4-H Horsemanship Club in Maui County that does not require you to have a horse to join. Our greatest success is in our number of members. We started in 2006 with five ambitious girls and, today we number 15 boys and girls; our membership has been as high as 35.
For more information call Viola Mundrick-Wichman at 560-6204. To support or make a donation, contact 4-H Clover Lopers, PO Box 215, Ho`olehua 96729.